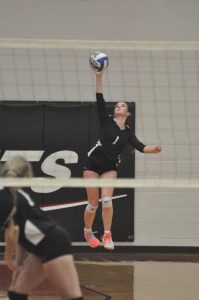 The James River volleyball team won their third match in a row last Thursday when they beat Bassett High in three sets. That swept the season series against the Bengals and improved River's record to 3-1 after a season opening loss to Lord Botetourt.
"I was overall pleased with our energy and our level of play during the game," said coach Linsey Firebaugh. "We were able to keep them out of system most of the night. We made some silly errors, but our serving and ball control helped us stay ahead in each set and take the match. My girls are very coachable and were able to perform our game plan very well."
Ripley Barry led the Knights with nine kills. Brea Anduiza had 22 assists.
This week the Knights will open Three Rivers District play with a home match against Floyd County on Tuesday, followed by a trip to Alleghany on Thursday. A busy schedule continues next week with a home match against Bath County Monday, a Three Rivers match at Carroll on Tuesday and a trip to county rival Lord Botetourt on Thursday, September 14, in Daleville.