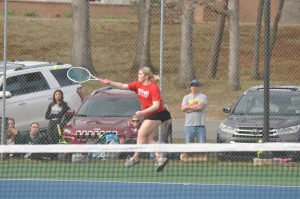 The Lord Botetourt tennis teams swept Rockbridge County in non-district action last week, as both teams took 5-4 wins. The boys were at home and the girls were at Rockbridge.
The boys swept the doubles by 9-7 scores to pull out the match and improve to 2-4 on the season.
"I was very proud of the way the team played, especially in doubles," said coach Blake Johnson.
The girls also won 5-4, then lost to Salem on Monday, 7-2. Monday's win was the first of the season for the girls after six matches.
"We were tied up at 4-4, so it came down to the number one singles match," said coach Shannon Quinn. "Reagan (Meade) was able to pull ahead at the right time and ended up winning 8-6, making our final score 5-4."
Both the LB girls and boys were scheduled to play William Byrd on Tuesday and Friday they meet Northside with the girls at Hollins University and the boys at Walrond Park.