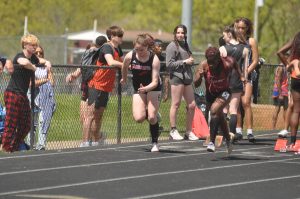 The Lord Botetourt and James River track teams competed in the "Terrier Team Challenge" track meet at William Byrd High School on Saturday. Around 20 teams competed under clear skies and comfortable temperatures at Byrd's Patterson Stadium.
For LB, junior Kendal Howard improved his previous personal record in winning the discus with a throw of 147'7". He did that just a few minutes after setting a new PR in the 100m at 11.94.
"Kendal is 6'4" and 250 pounds and running the 100m under 12 seconds," said LB coach Paul Craft. "That's a large young man moving extremely fast. It looks surreal when you see it. I texted Coach (football's Jamie) Harless after the race and he was pleased, to say the least. If we can get a few things ironed out in his discus technique, I think he can start closing in on 170 feet by season's end."
Kendal has already qualified for the state track meet in the shot and discus. DJ Toliver took sixth in the discus and fifth in the shot.
Other place winners for the boys included Carter Hudson with a third in the 3,200. Elijah Rose was sixth in the long jump, sixth in the 300 hurdles and seventh in the 110 hurdles and the boys 4×100 relay was third.
For the girls, Jillian Harris was fourth in the 300 hurdles and sixth in the 100 and Alina Toliver was seventh in the discus and shot.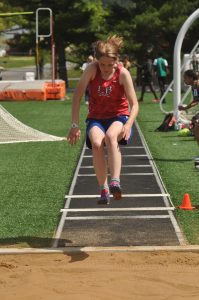 "Alina is throwing both shot and disc well for us," said Craft. "She's just a freshman and just a couple feet shy of the 30-foot mark in the shot and throwing 80 plus feet in the discus. We're very excited about her and the other girl throwers, look for their names to start popping up frequently.
"Overall, we were pleased with our performances Saturday. We have a young team but we're pulling together well."
For River, Michael Jorgensen took sixth in the 1,600. Brian Moran was seventh in the long jump and eighth in the high jump while Andrew Fowler was seventh in the discus and George Toliver was eighth in the shot.
For the girls, Naveah Van Buren took fourth in the discus and sixth in the triple jump. Kaia Binns qualified for the state meet in the 200.
This Saturday both the LB and River teams will be participating in a meet at Staunton River.