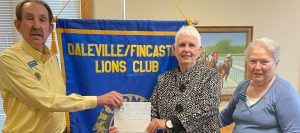 The Daleville-Fincastle Lions presented a $9,000 check to the Botetourt Food Pantry at the club meeting on November 14. The $9,000 check was funded jointly by the Daleville-Fincastle Lions, $3,000, and by a grant from the Lions of Virginia Foundation, $6,000. In addition to financial support from the club, the Daleville-Fincastle Lions also volunteer to assist with the food distribution at the Food Pantry once a month. The Food Pantry is serving an ever-increasing number of families who need food assistance. The average number of families served each month in 2023, to date, is approximately 20% higher than 2022. Pictured (from left) are Lions Club President Lowell Skelton, Botetourt Food Pantry representative Lois Switzer, and Lions Club Treasurer Mary Sue McCormack.

At the November 14 meeting, the Daleville-Fincastle Lions inducted a new member, William "Bill" Walker. Bill and wife Teri are new residents at The Glebe. Bill has been a Lion is the past, previously a member of the Herndon, Va., Lions Club. Pictured (from left) are Lions Club President Lowell Skelton, new member Bill Walker, and his sponsor, Lion Mike Jackson.
The Daleville-Fincastle Lions Club is the newest Lions Club in District 24-C, being officially authorized by Lions Clubs International  in January 2019.  There are two Lions Clubs in Botertourt County –  the Buchanan Lions Club and Daleville-Fincastle Lions Club.
~ Daleville-Fincastle Lions Club