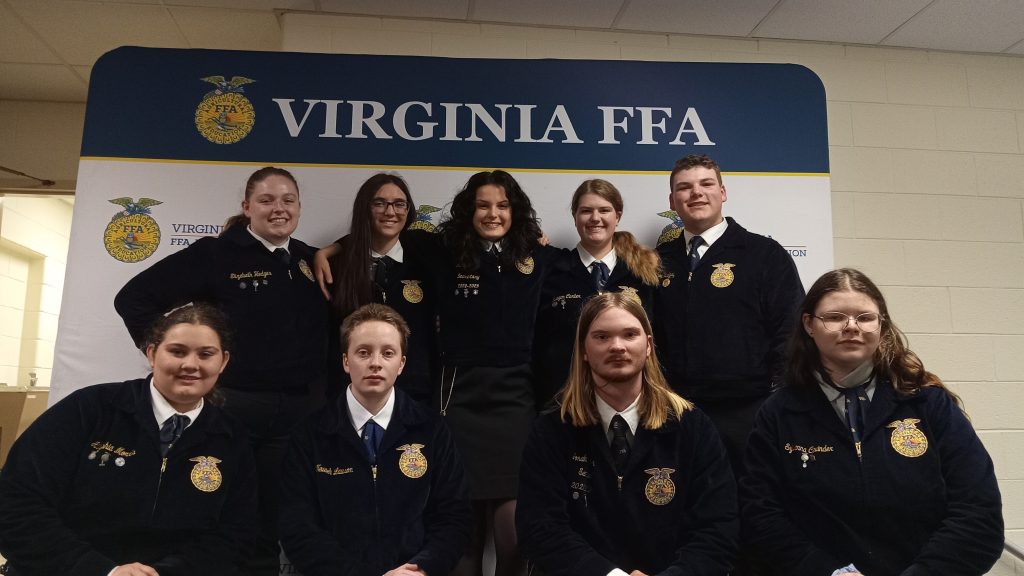 The Lord Botetourt High School FFA Chapter had 10 members join the over 1,500 members  from across Virginia who attended the 97th annual State FFA Convention on the campus of Virginia Tech in Blacksburg June 20-23. They were Nathan Badgley, Raegan Carter, Sylvana Cavinder, Jonah Duncan, Elizabeth Hodges, Nevaeh Lawson, Hailey Lusk, Kirin Miller, Alyssia  Morris, and Andrew Seibel.
The FFA members competed in various State Career and Leadership Development Events, toured a career show, attended leadership development workshops, and attended sessions hearing from current state offices and motivational keynote speakers.
Andrew Seibel, who is currently serving as the National President for the FFA, shared the stage with Suzanne S. Youngkin, the first lady of Virginia, as one of the keynote speakers to a packed Burris Auditorium. Andrew also provided leadership workshops for many of the members in attendance.
Kirin Miller was selected to be the 2023-24 State FFA Vice President for Virginia after spending  the week going through a vigorous interview process as she spent the week running for office which include written exams, personal interviews, extemporaneous public speaking, and held stakeholder interviews, all part of the interview process.
Elizabeth Hodges placed fifth in the State Employment Skills competition where she had to go through the process of filling out applications, participating in job interviews, and participating in various extemporaneous employment skills activities.
Nathan Badgley, Raegan Carter and Jonah Duncan competed in the Agricultural Mechanics competition where they had to take an in-depth written exam, perform various mechanical exercises including welding, electrical wiring, concrete, construction and power equipment set up and repair. Badgley was the second high individual in the state and received a plaque and welding supplies from Lincoln Electric.
Sylvana Cavinder, Nevaeh Lawson, Hailey Lusk and Allyshia Morris competed in the Food Science Career Development Event, where they took a comprehensive exam, completed various practicums, developed a new food item and made a presentation. The team placed fifth in the state with Cavinder being named the seventh high individual in the state.
~ LB FFA