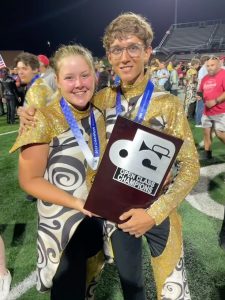 This summer two current Lord Botetourt Marching Cavaliers and two alumni got an early start to band.  Troy Buchanan, Kenzie Wilson, Riley Rothwell ('22), and Julia Garber ('21) spent their summer training, learning, and competing with Drum Corps International (DCI).
Troy is a trombone and baritone player. Kenzie is a tuba player. Riley is a percussionist and piano player and also a member of JMU's Marching Royal Dukes.  He was also earned a spot his senior year at LB in the Virginia All State Band. Julia is a Color Guard member and was one of the featured guard members at Lord Botetourt. This will be her second year marching with Spirit. Julia is also a member of the Bridgewater College Marching Band.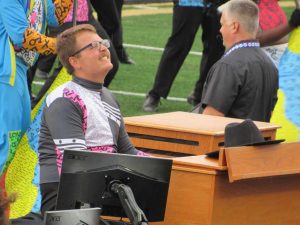 Both Troy and Kenzie, seniors at Lord Botetourt, are members of the Spartans. The Spartans compete in DCI's Open Class and are a non-profit independent performing group from Nashua, N.H.  DCI's Open Class Championships took place August 8 at Indiana Wesleyan University's Wildcat Stadium. The corps has been breaking records all summer and won the Open Class Championships. Both Troy and Kenzie received a gold medal and performed last Thursday at Lucas Oil Stadium in DCI's World Championships. Thursday's event was a quarterfinal round.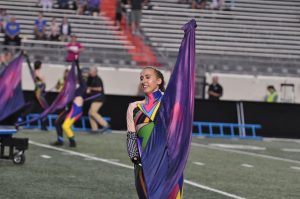 All three corps (Spirit of Atlanta – Garber's corps, The Spartans – Buchanan and Wilson's corps, and Jersey Surf – Rothwell's corps) advanced from the quarterfinals to the semifinals on Thursday.
Groups that advanced performed on back-to-back days with the final's event taking place last Saturday.
~ Chris Caldwell, Director of Bands – Lord Botetourt High School