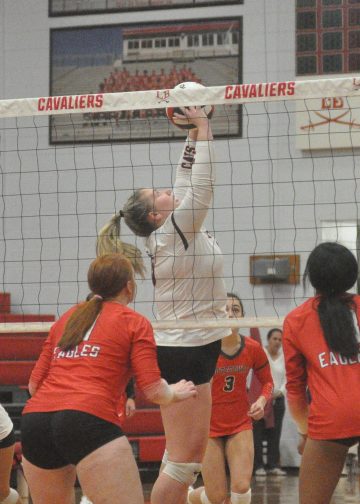 Lord Botetourt added a Blue Ridge District tournament championship to the regular season title with a win over Franklin County in the final last Thursday. The Cavaliers left no doubt, winning in three sets in the championship match in Daleville.
Botetourt finished the regular season with a perfect 10-0 record, then beat Northside in three sets in the tournament semifinal. Franklin County was 8-2 in the BRD regular season, losing only to LB twice, and the Eagles earned their spot in the championship match with a semifinal win over William Byrd, setting up a third match with the Cavaliers.
Botetourt came out strong in the final, winning the first set 25-18. They dominated the second set, 25-10, then held off the Eagles in a close third set, 26-24, to put it away.
"We had a great match against Franklin County," said LB coach Julie Conner. "We passed well off serve receive, played good defense and controlled most of the match. I am proud of the team for a strong start in postseason play."
Becca Huddleston led the Cavaliers with a dozen kills and Emma Rice had 10. Erica Gergely had eight kills and 12 digs, Skylar Morris had 36 assists, Bria Harvey had 18 digs and Maddie Caron served up four aces.
After the tournament the All-BRD team was announced and Morris was named first team and Player of the Year. Joining her on the first team were Huddleston, Rice and Harvey while second team honors went to Gergely and Caron. Conner was named the Blue Ridge District Coach of the Year.
"I have great assistant coaches and good kids," said Conner.
Next up for the Cavaliers is the Region 3D tournament. LB took a 19-4 overall record into Tuesday's home match with Carroll County, but results were too late for publication. The Cavaliers are the third seed in the tournament and Carroll is sixth.
If the Cavaliers won on Tuesday they'll advance to Thursday's second round match against the winner of a Tuesday match between second seeded Christiansburg and Cave Spring. If Christiansburg won that match they would be home, but if a hot Cave Spring team pulled the upset and LB also won, then Thursday's match would be in Daleville.
Hidden Valley is the number one seed in the tournament. The championship is scheduled for next Tuesday, November 7, and both finalists advance to the state tournament.