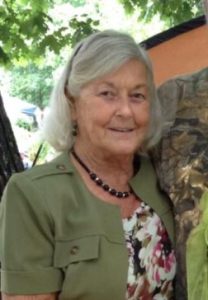 Wanda Pring McKinney, 81, of Buchanan, passed away on Friday, August 18, 2023.
She was preceded in death by her husband, Acie Amos McKinney; son, Kenneth Ray McKinney; parents, Thurman and Lillian Pring; and brothers, William, Phillip, and Walter Pring.
Wanda was an active member of the community including Arcadia Baptist Church, Buchanan Moose Lodge, Town Improvement Society, the Red Hat Society, and many others.
She is survived by daughter and son-in-law, Pam and Shayne Hale of New Castle; sons and daughter-in-law, Robert "Bobby" and Valerie McKinney of Glasgow; Timothy "Bones" McKinney and David McKinney, both of Buchanan; grandchildren, Daniel, Cody, Josh, Ryan, Andrew, Brandon, Travis, Kyler, Matthew, and Holly; great-grandchildren, Tyler, Caleb, Jon Jon, Danika, Wilson, Gracie, Evelyn, and Kora; sister, Patricia Carper; and numerous nieces and nephews.
Funeral services will be held at 11 a.m. Wednesday, August 23, 2023 in the Buchanan Chapel of Botetourt Funeral Home with Pastor Mason Jordan officiating. Interment will follow in Fairview Cemetery. Visitation was held from 6-8 p.m. Tuesday, August 22.  Online condolences may be made at www.botetourtfuneralhome.com or 540-254-3000.