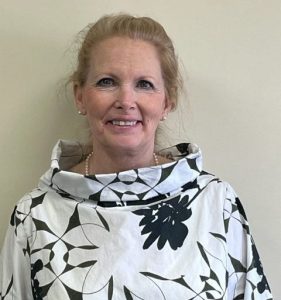 By Matt de Simone
The Botetourt Historical Society (BCHS) and Museum provide visitors a chance to revisit some of Botetourt County's history through education, exhibits, and activities. The museum's 57-year history saw a couple of massive changes last year. One of those changes stemmed off of the county courthouse renovation project, causing the museum to successfully find a new home.
During this series, The Fincastle Herald will feature interviews with some of the individuals who love Botetourt's rich history and help make the Botetourt County Museum of History and Culture a must-see destination.
Kathy Austin is a voting board member of BCHS who grew in Botetourt County. She was raised on a 600-acre farm in Fincastle and is a graduate of James River High School.
"My family's been here for generations," Kathy said in a recent interview. "I grew up in Fincastle on a farm that's still intact that my cousins live on."
Kathy's been a member of BCHS for approximately a decade. Her father's first cousin, Garland Stevens, was a member of the society for many years. Garland is who Kathy considers to be her biggest influence in bringing her into the Historical Society.
"He (Garland) would inform me of things going on [with BCHS] and encourage me in that direction," she added. "I've always been interested in history. My father encouraged an interest in history for myself and my three brothers, but Garland was the main reason I was interested in the Historical Society."
Kathy mentioned the historical significance of Botetourt County is something to be proud of, which include interesting factoids about the area. Some of the interesting facts about Botetourt that fascinate Kathy include Botetourt County taking in six other states stretching the county's reach to the Mississippi River, Thomas Jefferson providing the plans for the second iteration of the Botetourt County Courthouse which was constructed around 1820, and a trail behind her current residence in Buchanan where William Clark traveled across the property on his way to meet Meriweather Lewis. Clark would later marry his wife, Julia Hancock, in Fincastle.
"My father always read biographies and autobiographies of the founding fathers and encouraged us to do so," Kathy said. "I have a corner cupboard and a side board that's been in my family since the 1700s. I've just always had those things in my life."
As a member of BCHS, Kathy provided incite regarding the activities involving the preservation of William Preston's Greenfield property, the courthouse renovation project, and the preservation of other historical structures around the county. While she believes that historical locations and structure have their "sense of place" and, at times, shouldn't be disrupted, she understands that some elements, like up-to-date security functions, are necessary when restoring sites like the county courthouse.
"I think that structures (like the courthouse) that we've had for generations in this county, their place is as important as the structure," Kathy said. "I'm opposed to moving any structures like that… but security has evolved over time and they have to have a secure courthouse."
Kathy remains optimistic about the move of the old Breckinridge Law Office this spring, which housed BCHS and the Botetourt Museum of History and Culture for ages. Her husband, Del. Terry Austin, appropriated $6 million for a new museum in Fincastle last year. While details about the new museum that will also be located in Fincastle are limited at the moment, Kathy hopes that the "footprint" of the old museum will still have a place in courthouse square following the completion of the ongoing renovations.
"I hope that when the new museum is built, we're able to house more rotating exhibits or activities there because there is more (Botetourt) history that can't be contained in one structure," Kathy noted. "We need to be able to have a place where we can acknowledge history and then freshen it with the new (museum). I don't know how that is going to play out but it will definitely be an improvement."
July 4, 2026 is the 250th anniversary of America's independence. Kathy hopes that the culmination of Fincastle's ongoing courthouse renovations will coincide with that event.
Kathy is also a member of the Buchanan Theatre's Standing Room Only board of directors. The nonprofit group concentrates on continuously improving the historic theater. They've recently concentrated on securing the structure, repairing the heating system, and bringing other operations up-to-date. She holds her work with Standing Room Only dear to her heart.
"It's such an awesome place to walk into," Kathy said of the theater. "It's like walking back in time."
She, like the other members for BCHS's board of directors, understands the historic significance of Botetourt County to the area, to the state, and the country as a whole in hopes that Botetourt continues to support the county's footprint on the story of America.
"I think we need to embrace our history and our culture musically, artistically… I don't think we need to 'pigeonhole' it," Kathy said. "I think we need to represent and embrace our culture in every aspect in this county because we have a rich history and it needs to be showcased."
To learn more about the Botetourt County Historical Society & Museum, visit bothistsoc.wordpress.com. The museum is located at 26 East Main Street in Fincastle and is open to the public Monday through Saturday from 10 a.m. to 2 p.m. and on Sundays from 2 p.m. until 4 p.m.