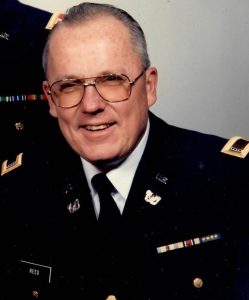 William Harvey "Bill" Reed passed away peacefully on October 2, 2023 at Hickory Hill Retirement Community following an extended battle with Alzheimer's Disease.
Bill was proceeded in death by his parents, Prince Wyatt and Elizabeth Deel Reed of Botetourt County; as well as two sisters, Margaret Hatcher from Troutville and Mary Jo Myers (Jerry) from Blackstone, Va.
He is survived by his loving and devoted wife of 64 years, Lois Hottle Reed; a son, Lieutenant Colonel (Ret) Michael Wyatt Reed of Wake Forest, N.C.; daughter, Melissa Lynn Reed (Michael Compton) of Richmond, Va.; grandchildren, William Reed (Wake Forest, N.C.), Corporal Christopher Reed (Fort Bragg, N.C.), Abigail Hall (Jonathan) of Richmond, and Adam Compton of Dubois, Wyo.; and sisters Shirley Witt (Roanoke), Rachel Ayers (Buchanan), Jean Shell (Roanoke) and Juanita Whorley (Roanoke).
Bill, or "Buster" as known to many, graduated in 1956 from Troutville High School. Following graduation he worked for the Bartlett Tree Company until his 1958 entry into the Virginia Army National Guard. He was one of the "Original 31" of what is now known as MATES, Fort Pickett, Va. He rose to the rank of Chief Warrant Officer 4 before final retirement in 1995. "Chief" Reed was a friend and mentor to many and most famously known as the leader of the famed "Reed's Rangers" – a team that is still held in high reverence today. Following retirement Bill and Lois lived their dream – travelling the country and eventually settling on Buggs Island Lake where sunset cruises and family gatherings were the priority. Both were also heavily involved in the various outreach programs of Bethesda Baptist Church. They were also active volunteers for Community Memorial Hospital in South Hill. Bill was always lending a helping hand to friends and neighbors; widely known for his ability to fix or repair practically anything thrown his way. His "piddling" saved neighbors countless dollars.
The family will receive friends from 12:30-2 p.m. Wednesday, October 11 at Crowde-Hite-Crews Funeral Home, 1504 North Mecklenburg Avenue, South Hill, Va. Services will be held following visitation at the same location at 2 p.m. with full American Legion Post 79 Military Honors. The family suggests donations be made to any Alzheimer's Research Organization. Online condolences may be made through the website, www.crowderhitecrews.com. Crowder-Hite-Crews Funeral Home and Crematory is serving the Reed family.