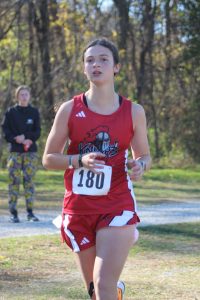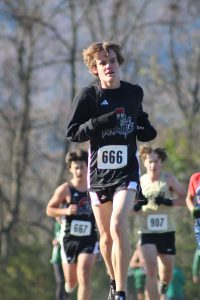 The James River boys finished fifth in the Region 2C cross country meet at Green Hill Park in west Roanoke County last week. Three River girls also ran but the Knights did not have enough girls to qualify as a team.
Floyd County won the boys championship, followed by Patrick County and Glenvar and all three will qualify for this Saturday's state cross country meet at Green Hill Park. The individual champion was Mason Erchull of Floyd, who finished with a time of 15:36.
River's best time was run by Aiden Bartulis, who was 23rd in 18:39. Tristan Capo was 26th at 18:53 and also scoring for River were Silas Miller in 31st, Braden Jones in 32nd and Mark Voight in 33rd.
Liberty of Bedford won the girls championship, followed by Floyd and Glenvar. Alexis Plaster of Liberty had the best time in 18:39.
River's best time among the girls was Drew Whitson, who covered the 5,000-meter course in 22:05 for 18th place. Georgia Miller was 30th and Victoria Race-Waller was 50th.
No one from James River qualified for the state meet but all runners ran season personal bests.