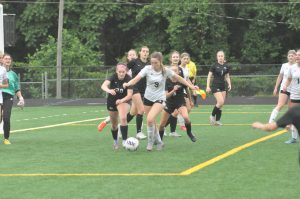 The James River girls will be in Lovingston tonight, Wednesday, to open the Region 2C soccer tournament. The fifth seeded Knights will take on fourth seeded Nelson County at 6 p.m.
The River girls come in with an 8-9 overall record after splitting their final two regular season games last week. On Wednesday in Lexington they took a 3-2 win over host Rockbridge County, avenging a prior 6-2 loss to the Class 3 Wildcats when they played in Springwood.
Rockbridge scored first in last week's game but the Knights answered with a goal by Alise Orent, followed by a Konner Meyers score, assisted by Natalie Hughes. That gave River a 2-1 lead at intermission.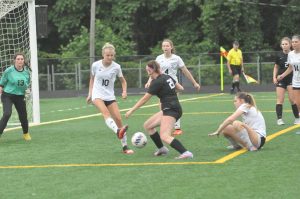 Victoria Race-Waller scored in the second half, assisted by Myers, to up the lead to 3-1. Rockbridge scored late in the game but the Knights were able to hang on for a big win.
A night later they traveled to Glenvar where they dropped a 6-1 decision to the defending Class 2 state champion Highlanders. Hughes scored River's goal, assisted by Orent.
Despite the loss, coach Bill Smith was encouraged with the team's play late in the season. If the Knights can win tonight they would travel to Appomattox for the next round on Tuesday of next week.
"We struggled in the early games, but the team really grew a lot and they finished well," said Smith. "I am proud of the girls and look forward to post season play."