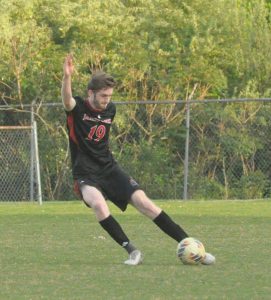 The James River boys will open Region 2C soccer play on Friday of this week when the Knights travel to Appomattox for an evening game. River is the fifth seed and Appomattox is fourth seeded.
The winner of that game will advance to next Tuesday's semifinal round at Glenvar, hosted by the top-seeded Highlanders. Glenvar finished the regular season at 14-1-1 after downing James River in Springwood last Thursday, 3-1.
"Glenvar is a strong team for sure," said River coach Jared Whiting. "Even though we lost we gained a lot of ground on them compared to the first game with them when they blew us out big time. We made some changes and shut down their attack for most of the game. The game could have easily gone in our favor if it wasn't for a couple unlucky bounces.
"Though we lost, it felt good that we can play tight with them. Looking forward to maybe getting another game with them in the playoffs."
River finished the regular season with an 11-5-1 record. The Knights also played Rockbridge County to a scoreless draw in Lexington last week.