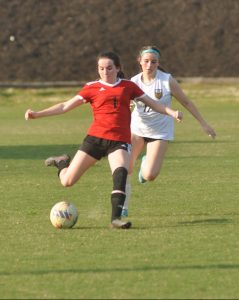 The James River girls soccer team is 5-5 overall and 3-1 in the district with nine days off between games. River won't play again until May 4 when travel to Carroll County.
The girls were at Alleghany Monday where they shutout the home-standing Mountaineers, 7-0. The match was clearly one sided from the start, with the James River girls taking control.  Konner Myers, Natalie Hughes and Drew Whitson each scored in the first half. Alise Orent started the scoring mid-way through the second period, followed by an own goal caused by heavy pressure in the Alleghany penalty area.  Goals by Beanna Anduiza and Chloe Helmandollar completed the scoring at 7-0.
The win followed a 4-2 victory over arch-rival Radford in Springwood last Thursday. The game was tied at 1-1 at the half with Shay Hubbard scoring for the Knights.
The Bobcats scored first in the second half to retake the lead in the opening minutes of the period, but Drew Whitson finished a low cross from Ava Thacker minutes later to level the score at 2-2. Victoria Race-Waller followed shortly after, converting from a Myers assist to take the lead for the first time in the game.
A James River penalty threatened to tie it back up, but the kick bounced down from the top post and was quickly retrieved by Kylee Aaron in heavy traffic to maintain the lead.  Another penalty, this time on Radford, led to Myers finishing the spot kick with style to give the Knights some breathing room with more than 15 minutes to play
"It is always exciting when the Knights face their district rival Radford Bobcats," said River coach Bill Smith. "This night was no exception."