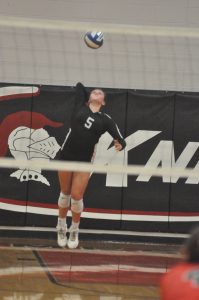 The James River girls will get ready for the volleyball post-season when they travel to Glenvar Thursday to take on the two-time defending state champion Highlanders. It's the last regular season match for both teams.
The Three Rivers District varsity and jayvee tournaments will be held next week, with the top four varsity teams and top two jayvee teams competing. The varsity semifinals will be Tuesday, Oct. 24, at the top two seeds with the championship on Thursday at the site of the highest remaining seed. The jayvee championship will be held at Alleghany High next Wednesday. If a school is playing in the jayvee and varsity championship and both have the higher seed, the jayvee championship will be moved to the 26th and games will be at 5:30 and 7 p.m.
Thursday's River-Glenvar match is a big one, as with one week to go those two are tied for the fourth spot and the top four make the tournament. Alleghany leads the 3RD as of Monday with a 9-1 district record followed by Carroll at 8-3 and Radford at 7-3. River and Glenvar both come into the week at 5-5 while Floyd, at 1-9, and Patrick, at 1-10, have already been eliminated from the tournament. On Tuesday River was at Patrick while the Highlanders had to play Alleghany at home.
Alleghany has clinched a spot in the jayvee championship with River, Glenvar and Patrick battling for the other spot with a week to go.
The Knights' varsity team picked up a big win last Thursday when they defeated Radford at home in four sets, 30-28, 22-25, 25-18 and 25-15.
"We started out the night slowly with the first three servers missing their serve and Radford taking a big lead," said coach Linsey Firebaugh. "Luckily, the girls got out of their funk and started to play. We started getting digs and putting the balls in smart places, which took Radford out of their system. When we are smart and strong with the ball good things happen."
Ava Thacker led the Knights with 18 kills and 28 digs. Brea Anduiza had 34 assists and 28 digs and Konner Myers had 28 digs as well.
The Knights also played a non-district match with Riverheads last week and won in four, 25-11, 25-12, 20-25 and 25-13. Anduiza had 32 assists, Myers had 20 digs and Jadyn Miller had a dozen kills.
"We got a jump on Riverheads early and took the first two sets," said Firebaugh. "We were solid defensively and Avery Williams stepped up big in the third and fourth sets and got crucial kills for us."
The two wins lifted River to 11-7 overall.