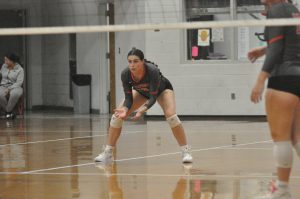 The Lord Botetourt girls were at Franklin County for a volleyball match Tuesday hoping to clinch the Blue Ridge District regular season title and top seed in next week's BRD tournament. The tournament is scheduled to start Monday at the sites of the third and fourth seeds.
LB comes into the week with an 8-0 district record and a 15-4 overall mark, but the Cavaliers still had a trip to Rocky Mount on Tuesday where the Eagles were waiting with a 7-1 district record. Results were too late for publication, but if LB took care of business the Cavs clinched the regular season title and top seed in the tournament. They have one more regular season match remaining, at Staunton River Thursday.
The top two seeds in the district will get a first round by next Monday while the third seed hosts the sixth and the fourth seed is home to meet the fifth. The top two, which will be LB and Franklin, join the tournament for the semifinals on Tuesday of next week and the championship match is Thursday, Oct. 26, at the site of the highest remaining seed.
The Cavaliers stayed hot with two more district wins last week. They traveled to Northside on October 10 and beat the Vikings in three sets, 25-14, 25-14 and 25-19. Erica Gergely had 11 kills and 13 digs while Becca Huddleston had seven kills and five blocks. Skylar Morris had 30 assists, Bria Harvey had 14 digs and five aces and Gracelynn Clark had four kills.
On Thursday of last week the Cavs hosted William Fleming and made short work of the visiting Colonels, winning 25-4, 25-4, 25-4. Emma Rice had nine kills, Christina Ellis had seven and Savanna Johnson and Gergely had five each.