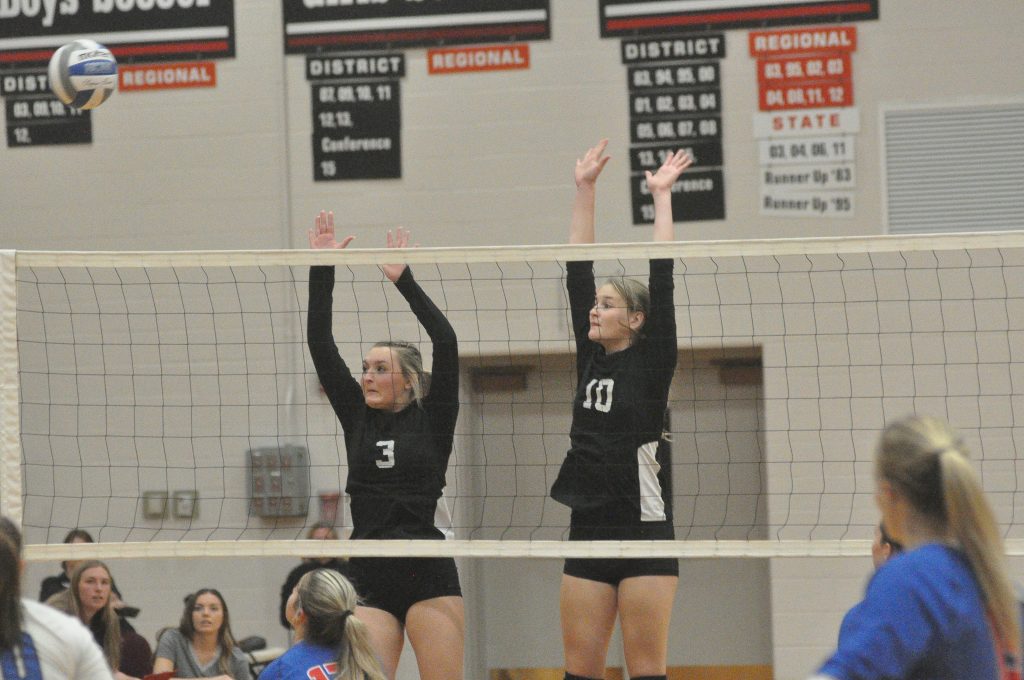 The James River volleyball team made it all the way to the state Class 2 quarterfinal before their season came to an end. The Knights dropped a four-set match in Gate City last Saturday.
River, in their first season under coach Linsey Firebaugh, battled to a tie after two sets against the perennial strong Blue Devils. Gate City won the first set, 25-15, but the Knights bounced back to take the second, 25-20, to tie the match. The home-standing Devils then prevailed, winning the next two sets 25-18 and 25-15.
"This is most of these girls' first time being in a moment this big, so we came out scrambled," said Firebaugh. "The first set we could not shut down their big outsides. However, the second set we did better setting up blocks and defending the big swings. Then in the third set we started out strong and Gate City went on a run that gained them some momentum and took that into the fourth set."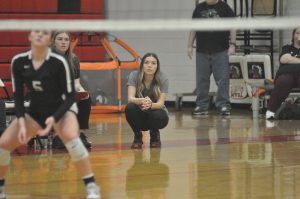 Brea Anduiza had 24 assists and 13 digs for River while Jadyn Miller and Caitlin Canada had nine kills. Konner Myers and Ava Thacker were strong on serve receive.
"Konner and Ava had a wonderful night serve receive passing," said Firebaugh. "We had the opportunity to run our offense all night long with how well we passed, but it was hard to get past their big block and good defense. Overall, I am so proud of these girls, they hustled and worked so hard all night long."
The girls made the state tournament with a second place finish in the Region 2C tourney. After upsetting second-seeded Gretna in the region semifinals they took on the top seed, Appomattox, in the region final and fell in three, 25-20, 25-17 and 25-23.
"This was one of our worst games all year," said Firebaugh. "The gym and the atmosphere got the best of us. We actually came out really hot and Appomattox took an early time out. They served well and went on a couple of serving runs and that got in our heads and we did not play super well the rest of the night. We hustled and kept lots of balls alive, but could not put the ball away in crucial moments."
Myers had 18 digs against the Raiders while Thacker had 10 kills and Anduiza had 20 assists. The All-Three Rivers District team was recently announced and Anduiza and Myers made first team while Thacker was named to the second team.
River finished the season with a 14-10 overall record. That was five wins more than last year's 9-14 team and the Knights graduate just one senior, middle hitter Ripley Barry.
"First, I would like to thank God who gave me this opportunity to coach these girls this season, this was a very successful season with incredibly good kids," said Firebaugh. "We were truly a team, coming to each other with everything, praying or watching devotions together before games, and enjoying every moment we got to spend together. Not only were these girls in the gym working hard every day but they are wonderful girls to coach. I feel so blessed to have coached these girls this season.
"We had incredible ball control all year, but our execution factor was missing. Having so many returners I am hoping during the offseason we can work on being aggressive on offense and putting balls away. Losing only one senior will help with next year because the expectations and routines will be there already, so I will be able to focus on skill work. We are all very excited for the next season.
"After the loss at Gate City we all cried together, not because we lost but because we were so sad we could not be together every day. After that we all cried happy tears for what next season will bring."