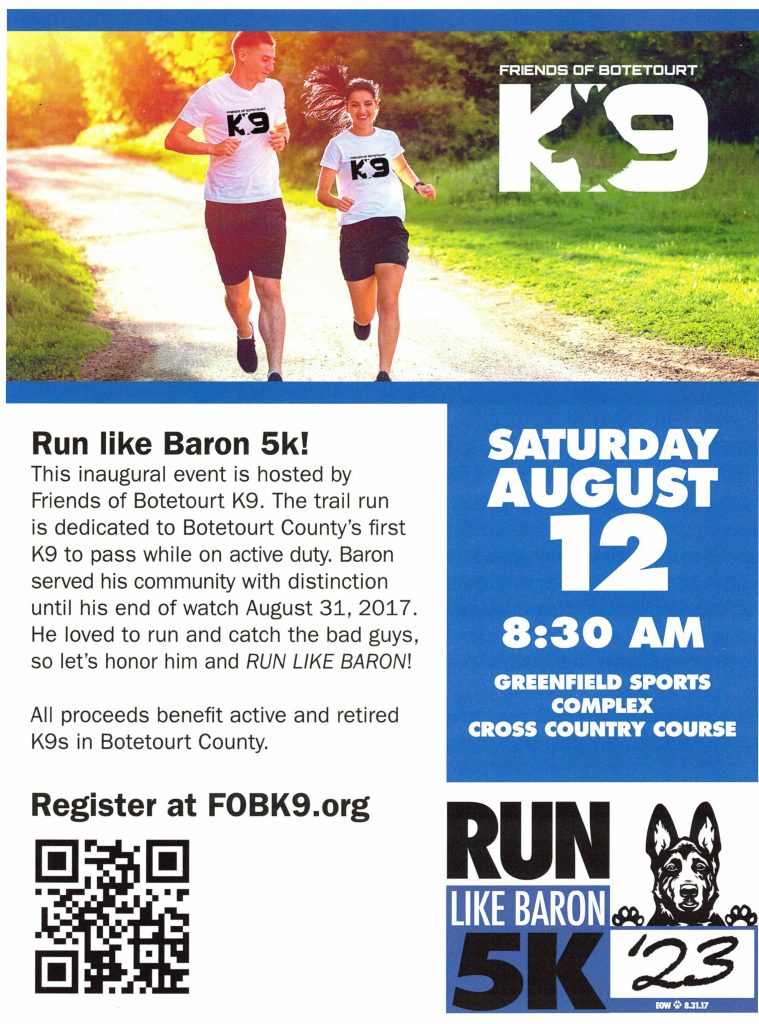 Friends of Botetourt K9 recently announced the inaugural "Run Like Baron 5K" cross-country running/walking event dedicated to Botetourt County's first K9 officer to be lost while on active duty –  Baron, who served with distinction until his end of watch on August 31, 2017. The event is organized by Friends of Botetourt K9, a non-profit organization dedicated to providing financial support to the Botetourt County Sheriff's Department K9 unit.
The 5K will be held on August 12, starting at 8:30 a.m. Participants have the option to choose between an in-person race, a virtual race, or a fun walk event. The in-person race and walk will be held at the Greenfield Recreation Park in Troutville, offering scenic views along the 5K cross-country course. The virtual option can be completed from anywhere and the fun walk event is perfect for families and anyone who wants to participate in a non-competitive atmosphere.
All proceeds from the Run for Baron 5K will go towards Friends of Botetourt K9, which supports the K9 unit by providing financial aid for equipment, training, and other essential needs. This event is a great way to show your support for the brave K9 officers who serve and protect our community.
The Friends of Botetourt K9 was created as a 501©3 organization to facilitate educational opportunities, raise awareness of police K9s and their active accomplishments, foster community support of police dogs and K9 officers, and provide assistance in meeting the needs of retired and active-duty police dogs in Botetourt.
Starters and seasonal runners are all welcome. Register now at https://runsignup.com/Race/VA/Troutville/RunLikeBaron5K and be a part of this memorable event.
~ Fincastle Herald staff report