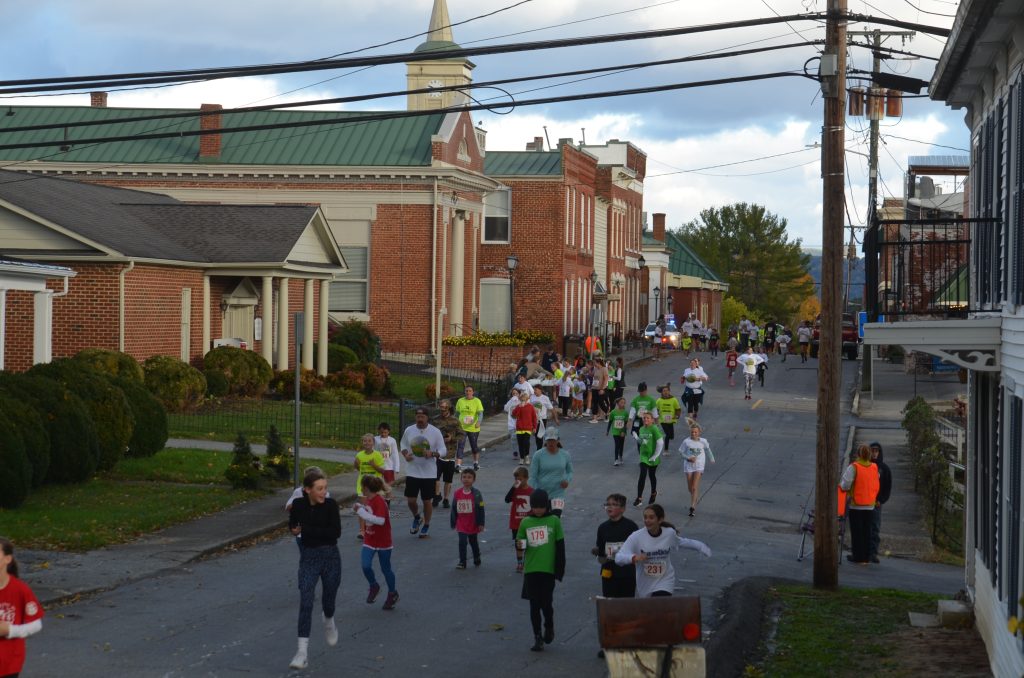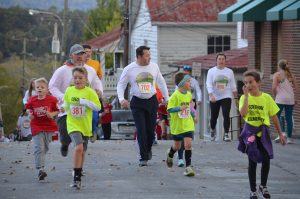 By Matt de Simone
Last Saturday saw local runners young and old sprint, jog, and leisurely stroll through the Town of Fincastle during the 2023 First Bank 5K and 10K Fall Run.
The Botetourt Rotary Club presented the 37th fall run with Botetourt County Public Schools (BCPS) serving as the primary sponsor for the event. This year's run saw 546 participants register to dash through the county seat, according to First Bank's Cindy Bailey.
"Congratulations to the 5k and 10k runners who competed in the 37th annual First Bank Fall Run," said Todd Ross Senior Vice President and Market President for the Roanoke Valley. "We are especially proud of the runners age 17 and under who showed us that anything is possible with hard work and determination.
"A special thank you goes out to the Botetourt Rotary Club, Botetourt County Public Schools and the race committee volunteers who worked for hours to make the First Bank Fall Run a successful event.  We also wish to thank all other volunteers, shirt sponsors, first responders, Central Academy Middle School and the Town of Fincastle who made this event possible as well."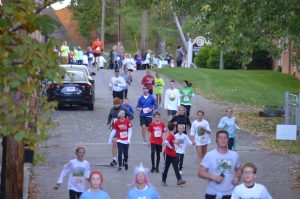 Out of the 546 runners who participated, 60% (327) runners were students age 17 and under mostly comprised of students representing BCPS. Additionally, 18 runners were ages 65 and over.
The 5K portion of the race saw Clifton Forge's Cedric Drennen as the first cross the finish line in the men's division clocking in at just over 16 minutes. Maddie Davidson won the 5K women's division with a time of 22:06.5.
Steve Crowder of Fincastle finished with the fastest time in the men's 10K run at 41:21.1. Elizabeth Wilson of Roanoke finished first in the women's division at 46:40.8.
As part of the race, First Bank and the Botetourt Rotary Club award $2,000 in scholarships to students from James River and Lord Botetourt. This year's scholarships will be awarded to local students at the end of the schoolyear.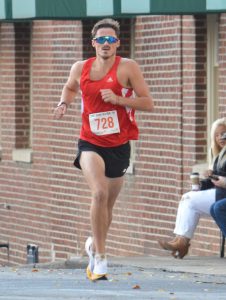 Top five finishing times: 5K – men's division
Cedric Drennen of Clifton Forge – 16 (min) 12.8 (sec)
Rye Jackson of Daleville – 18:53.2
Aiden Bartulis of Buchanan – 19:58.7
Tristan Capo of Fincastle – 20:02.0
Mark Voight of Fincastle – 20:30.8
Top five finishing times: 5K – women's division
Maddie Davidson of Fincastle – 22:06.5
Amelia Dietrich of Roanoke – 22:35.0
Erna Dietrich of Roanoke – 23:35.7
Jules Banka of Troutville – 24:59.6
Madeleine Gantzhorn of Troutville – 26:52.5
Top five finishing times: 10K – men's division
Steve Crowder of Fincastle– 41:21.1
Evan Ross of Roanoke – 43:22.1
Scot Harrison of Roanoke – 46:16.5
Chaz Edmonds of Roanoke – 48:51.7
Doug Falls of Roanoke – 51:47.2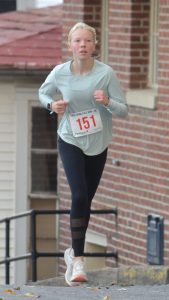 Top five finishing times: 10K – women's division
Elizabeth Wilson of Roanoke – 46:40.8
Morgan Marshall of Buchanan – 52:49.0
Ella Johnston of Roanoke – 53:06.3
Katelyn Wiley of Buchanan – 56:56.6
Luci Rock of Blue Ridge – 1:01:41.7
Highest Percentage of Runners from a school
1st – Breckinridge – 23% of their student body ran (47 students)
2nd- Troutville – 15.5% of their student body ran ( 37 students)
3rd – Eagle Rock – 13% of their student body ran (16 students)
Most runners from a school
1st – Colonial Elementary – 55 students
2nd – Breckinridge Elementary – 47 students
3rd – Troutville Elementary – 37 students
Elementary School Team Score Winners
1st place Greenfield Team: 1 Lucas Combs, 2cBodhi Woodson, 3 Haden Murphy, 4 Luke Murphy with a team time of 1:49:40.5
2nd place Breckinridge Team: 1 Easton Green, 2 Jack Monaghan, 3 Jocelyn Theimer, 4 Carson Bryant with a team time of 1:53:32.4
3rd place Troutville Team: 1 Caleb Dogan, 2 Colby Beckner, 3 Riggins Rutledge, 4 Holden May with a team time of 1:56:18.6
Middle School Team Score Winners
1st place CAMS with a cumulative team score for their top four runners of 1:39:01.6 – 1 Maddie Davidson, 2 Jules Banka, 3 Isaac Theimer, 4 Jeremy Tribble
2nd place RMMS with a cumulative team score for their top four runners of 1:42:4.0 – 1 Evan May, 2 Joshua Keating, 3 Thomas Frederickson, 4 Mason Gates