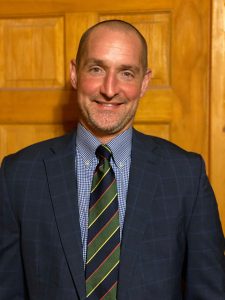 The Board of Directors of the Roanoke Valley Resource Authority (RVRA) recently announced the appointment of current Botetourt County Assistant Administrator Jon Lanford as its new Chief Executive Officer (CEO). He will succeed Dan Miles, who is retiring after 16½ years in the RVRA CEO position. Lanford's last day as acting County Assistant Administrator is Nov. 10.
The RVRA is the regional solid waste management organization serving residents and businesses of the cities of Roanoke and Salem, Roanoke County, and the Town of Vinton. It operates the Tinker Creek Transfer Station in the City of Roanoke, the Salem Transfer Station in the City of Salem, and the Smith Gap Landfill, processing approximately 250,000 tons of regional solid waste annually. The CEO is responsible for directing the staff and operations of the Authority and reports to a nine-member board of directors made up of representatives of the four member localities. At its meeting on October 25, the RVRA Board of Directors approved an employment agreement with Lanford.
Board Chair Rebecca Owens said, "We are pleased to have found someone with diverse experience in local government management, public works, and capital project management and who is familiar with the Roanoke Valley and its localities. The board was also impressed by his past successes with regional initiatives. We look forward to working with Jon to improve services to the regional partners, their citizens and businesses, and to strengthening the long-term financial sustainability of the Authority."
The RVRA board conducted a national search for the new CEO, assisted by The Berkley Group, of Bridgewater. The Berkley Group received applications and conducted initial interviews with the most qualified candidates. It then assisted with selecting finalists for interviews with the board.
Lanford shared these thoughts on his appointment, "I am honored and excited to have this opportunity to serve as the next Chief Executive Officer of the Roanoke Valley Resource Authority. I have a strong commitment to providing regional solutions that benefit our communities and this is a core mission of the RVRA. I look forward to working with the board and staff, along with the governing bodies of the partner localities, to strengthen the Authority to meet new challenges and continue to provide excellent solid waste management services to our region."
Lanford will assume his duties as Chief Executive Officer of the Roanoke Valley Resource Authority on November 13.
~ Fincastle Herald staff report