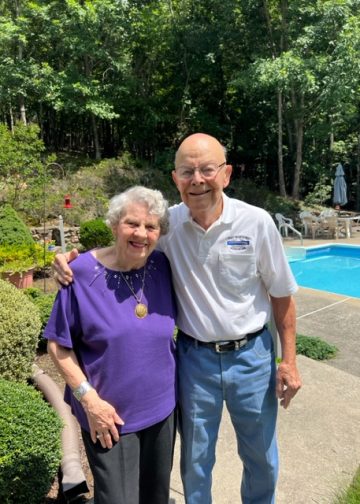 By Lee Henry, Troutville Sunshine Girls
Everett Stanwood "Stan" Diez is our featured veteran for this Veteran's Day. The Troutville Sunshine Girls know Stan from the Troutville Loins Club where he served as past president when they met at Town Hall.
Stan was born in St. Louis, Mo. and attended Washington University before entering West Point with the Class of 1956.  He tells us his dad was able to talk to a man who knew a congressman at a cocktail party and that led him to receive an appointment at West Point. After four years and graduating at West Point, Stan selected the infantry branch and began training at Fort Benning, Ga., including Airborne and Ranger school. He then reported to Fort Bragg, N.C. for duty with the 82nd Airborne Division. Stan tells us he was married the day after Easter in 1957 to Connie, whom he met on a blind date and were only together seven times before they married.  At Fort Bragg, their daughter Lesa was born and we laughed when he said she was born 9 months and 7 days later!
Stan was sent to Mainz, Germany for three years in the 504th Airborne Battle Group as first lieutenant and became an adjutant up in the headquarters. His primary job was executive officer of Airborne Riffle Company.  In Germany their son Eric was born. In 1961 Stan returned to Fort Benning for the Officers Advance Course, followed by two years at the University of Southern California to earn master's degrees in both Aeronautical and Mechanical Engineering.  He then served three years on the West Point Faculty in the Department of Earth, Space, and Graphic Science.
During his teaching he taught the first computer course to the cadets. Stan said they brought the first modern day computers into the classroom and it was as tough on them as it was the cadets! In 1967, Stan headed for Vietnam, served with 173rd Airborne Brigade six months on the staff and then six months out in the field during the major military assault of North Vietnamese and communist Viet Cong with South Vietnam. One experience Stan tells us of the first big day of the TET Offensive, he was in a little Air Force plane flying over Northern Vietnam dumping out leaflets.  It was one of many dangerous days to be there when both Vietnamese and U.S. military forces suffered massive casualties.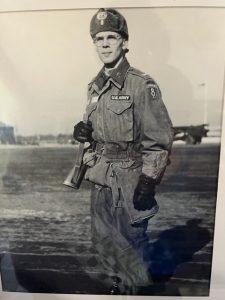 Stan went to the Pentagon after graduating from the Command & General Staff College in Fort Leavenworth, Kansas and served in the office of the Army Assistant Vice Chief of Staff. We did find it interesting that when he was operation officer he had to write the "Battle of Dak To," writing a presidential units citation for the 173rd Airborne Brigade; the writing of the battalions that were hurt badly but were heroes.  The draft was written up and approved later on.
Stan also worked on and reviewed the recommendations to the Chief of Staff when he was in the Pentagon with the Assistant Vice Chief of Staff. This was also a challenge as he said no one liked them as this was a difficult job making this job description for the Four-Star Officer.  During his time at the Pentagon he was promoted to Lieutenant Colonel.  In 1972 Stan deployed to Korea and the 2nd Infantry Division, where he commanded 1st Battalion (Mechanized), 17th Infantry.
A year later, he was assigned as Assistant Chief of Staff of the Continental Army Command at Fort Monroe, Va.  It was interesting to learn how the towns there have changed over time as the houses are now all occupied by civilians and not soldiers. Stan also attended the Army War College at Carlisle Barracks, Pa.. then returning to Fort Monroe.  His last assignment was Chief of Training Development and Director, Programs, and Resources for the Deputy Chief of Staff for training.
In 1980, Stan retired from military service and joined Burdeshaw Associates in Bethesda, Md., as their second employee.  He became Chief Financial Officer as the company made the INC 500 list and grew into a successful business.  Stan continued to impress us when in 1993 he returned to work for additional 10-year career with Cubic Defense Systems as Director of Eastern Business Development.
It was a grandchild that brought them to Troutville where they have resided since 1988. While sitting next to Connie on the couch, we were fascinated by her unique pewter like bracelet with Stan's name engraved from USMA. She said it was Stan's napkin ring holder that he used everyday in the mess hall all four years as a cadet. The bracelet is absolutely stunning and Connie never takes it off to this day. Stan celebrated his 90th birthday last March with a large gathering of his family and friends at the local Stoney Brook Vineyard in Troutville.
It was a pleasure to get to know more about Stan's military career and we look forward to seeing Stan at our Veterans Day program next week in Troutville.
The Sunshine Girls 14th Annual Veterans Day Program and Lunch will be held at Troutville Town Hall on Friday, Nov. 10, at 11 a.m.