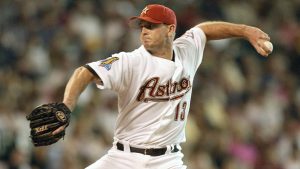 Former Major League Baseball and Ferrum College pitcher Billy Wagner will be the guest speaker for the Salem-Roanoke Baseball Hall of Fame's 32nd hot stove banquet and induction ceremony. The banquet will be held at the Salem Civic Center on February 4, 2024, and the Class of '24 includes Tommy Bayrer, Larry Bowles II, Mikey O'Brien and Paul Siple.
Wagner is a 2003 inductee in the Salem-Roanoke Baseball Hall of Fame. A 1990 graduate of Tazewell High School, he drew national attention with his mid to high 90s fastball while pitching for Ferrum College. In the 1993 draft the lefty fireballer was the first round, and 12th overall, pick of the Houston Astros. He made his Major League debut in 1995 and in '99 he was the recipient of the Rolaids Relief Award, presented to the outstanding closer in the National League. That season he had 39 saves with a 1.57 earned run average and 124 strikeouts in 74 innings.
A seven time all-star, Wagner pitched nine seasons for Houston, two for the Philadelphia Phillies, three with the New York Mets, and also had a stop in Boston before concluding his career with the Atlanta Braves in 2010, saving 37 games in his final season. Wagner finished a 16 year big league career with 422 saves while appearing in 853 games, all in relief. He struck out 1,196 batters in 903 innings and thrilled fans with a fastball that often reached the 100 mph mark.
Bayrer is a Roanoke native and graduate of Cave Spring High School, where he was a standout outfielder. He went on to play at Campbell University and hit .415 his sophomore season before being converted to a pitcher. Throwing in the 90s with a wicked knuckle curveball, he was a 17th round draft choice of the Astros in 2001. He pitched two seasons in the minor leagues for Houston, including a stint with Martinsville in the Appalachian League.
Bowles II is a Franklin County product who was a standout pitcher and firstbaseman for Franklin County High School, graduating in 1997. He was all-state his senior year and the recipient of the Salem-Roanoke Baseball Hall of Fame Ray Bellamy Award as high school Player-of-the-Year. He went on to play at Virginia Tech, where he earned All-American honors in 1999 on the Collegiate Baseball, Baseball Writers Association and Mizuno All-American teams. Larry played for the USA National team in 1998 and was drafted by the Anaheim Angels organization in 2000, where he played one year before his career was cut short by an injury.
O'Brien is another former Ray Bellamy Award winner, earning Player-of-the-Year honors in 2008 after a standout career at Hidden Valley High School. Following that season O'Brien, a righthanded pitcher, was drafted in the ninth round by the New York Yankees.  He pitched professionally until 2018 with stints for the Yankees, Orioles, Reds and Rays' organizations, reaching the AAA level in three different seasons. He finished his professional career with a 3.87 ERA over 770 innings pitched, striking out an average of 7.1 batters per nine innings.
Siple, a 1938 graduate of Clifton Forge High School who died in March, 2015, was a player, teacher, coach, professional scout and umpire. A four-year letter winner as a shortstop at Bridgewater College, he competed in the National Semi-Professional playoffs in Wichita, Kansas, then played and managed in semi-pro baseball in leagues throughout Virginia. He coached high school baseball for 24 years and became a professional scout in 1960. Siple scouted for 40 years, first for the Pittsburgh Pirates, then with the Reds and the Phillies. He was also a Virginia High School League umpire for 25 years and is a member of the Bath County High School, Boys Home and Bridgewater College Halls of Fame.
It was also announced that Mike Ruth, owner of the Shoe Doctor and supporter and coach of the Cave Spring Little League program since 1997, would be the recipient of the Wayne LaPierre, Sr. Service Award.
The Salem-Roanoke Baseball Hall of Fame was founded in 1991 and honors players and contributors from the counties of Alleghany, Roanoke, Bedford, Botetourt, Craig, Floyd, Franklin and Montgomery and the independent cities located within the boundaries of those counties. The Hall of Fame building is located on the grounds of the James E. Taliaferro Complex, next to the Salem Red Sox administrative office behind the third base seating area of Salem Memorial Ballpark. It is open to the public on selected nights during the Carolina League season and upon request.