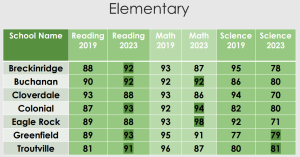 By Matt de Simone
Supervisor of Instruction Deborah Nemec presented the Botetourt School Board with the county's student growth assessments and the Standards of Learning 2022-2023 pass rates. The General Assembly in 2021 passed legislation requiring the implementation of "through year" growth assessments in reading and mathematics in grades 3-8. Full implementation began last school year with three assessments administered in fall, mid-year, and spring.
This year's revised fall growth assessment included measuring content from a student's previous year's grade level or course. Last year, the content was based on the student's current grade level. The example Nemec provided explained that students enrolled in grade 5 math in fall 2023 took growth assessments based on grade 4 math content. This change was made so that teachers, parents, and students could receive and review feedback on how well the students mastered the previous year's information so it could be used to identify area that may need remediation or assistance.
A new assessment, "Integrated Reading and Writing," will become a separate component of the grade 5, 8, and end-of-course SOLs in spring 2024. This stand-alone assessment will present students with one non-fiction passage (or possibly a pair) based on history and science content. The passage will be accompanied by six multiple choice/technology-enhanced item and one writing prompt based on the passage. This component will not be computer-adaptive. The new assessment was field-tested last spring.
On Sept. 7 the Virginia Department of Education (VDOE) released the Standards of Learning (SOL) pass rates for all public schools in Virginia. Botetourt County ranked eighth overall out of Virginia's 131 school divisions (7th – Reading, 4th – Math, and 20th – Science). These pass rates are located under the School Quality Profile Assessments tab on the BCPS website (https://www.bcps.k12.va.us/parents/resources/school_report_card).
Nemec additionally touched on a subject affecting schools across the nation: chronic absenteeism. She noted that the issue is "a hot topic at the moment." She added that chronic absenteeism (students missing 10% of the school year regardless of the reason, as defined by BCPS) can affect schools' accreditation ratings. According to Nemec, when this issue reaches high levels in schools, it can impact students' growth and the teachers' ability to engage students and reach their learning needs. She presented slides that highlighted the increases in absenteeism in some Botetourt schools, most notably the increases seen at Troutville, Greenfield, and Colonial Elementary Schools.
Superintendent Dr. Jonathan Russ made clear that BCPS "is not sugar-coating this" issue. He explained that, as a society, parents got used to children not going to school. Russ's plea to parents is to continue working alongside BCPS on getting more kids in their respective schools when healthy. Russ added that the current absentee rates in Botetourt "are a lot less alarming than (others) across the state."
Nemec offered a website, www.attendanceworks.org, that provides families with support and information about the issue of chronic absenteeism facing schools today.
To view the slides presented by Nemec to the board, visit the agenda packet for the Sept. 14 meeting at https://go.boarddocs.com/vsba/bcps/Board.nsf/Public > 10. Information Items: D. Growth Assessments Update and 2022-2023 SOL Pass Rates.
The Sept. 14 meeting of the School Board can be found at bcps.live/archives.