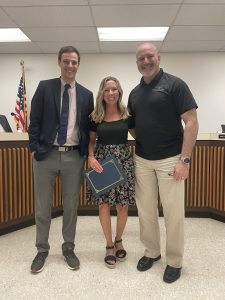 By Matt de Simone
The Botetourt County School Board held a regular meeting last Thursday in Fincastle at the county administration offices in Fincastle.
During the recognition portion of the meeting, the board recognized April's Botetourt County Public Schools (BCPS) Employees of the Month. Leigh Phillips, an accounts payable specialist in the school board office, and Shannon Farrar, a teacher at Greenfield Elementary School, each received a certificate for their accomplishments.
The 2023 Division Spelling Bee champion Jeremy Tribble (Central Academy Middle School) and alternate Thomas Frederickson (Troutville Elementary School) were each recognized by the board for their achievement in this year's contest.
Additionally, Lord Botetourt's Clythee Herbst is a recent Gold Key winner in the 2023 Scholastic Art Awards for her ceramics and glass creation entitled "Animals in the Clouds."
BTEC Principal Mike Ketron was on hand to recognize Hannah Heller of Lord Botetourt, who took home first place honors in the category of cabinet making.
"(Heller) is a great example of Botetourt County's best and brightest," Valley District board representative Tim Davidick said of Heller during her recognition. "She's going to do well in her future."
Ketron also recognized Phillip Simmons, BTEC Building Trades teacher at the Botetourt Technology Education Center (BTEC) and SkillsUSA Sponsor, was the recipient of the SkillsUSA Hall of Honor.
"It's the highest award you can get in SkillsUSA," Ketron noted. "You're selected based on years of service and contributions to SkillsUSA. Mr. Simmons has over 30 years both as a student and an instructor."
During the last recognition, the board highlighted local businesses that are a part of this year's Virginia School Board Association's (VSBA) Business Honor Roll in recognition for their continued support of school board work and students within the community.
"The Botetourt County School Board expresses appreciation for your ongoing support of this community's public schools," BCPS Superintendent Dr. Jonathan Russ said of the recognition. "Your work has aided this community focusing on the goal of providing the best public schools we can for every child who attends them."
The school board recognized select local businesses selected for the Virginia School Board Association (VSBA) Business Honor Roll. School board Vice Chair Dana McCaleb recommended Kelsey Bryant of Bryant Orchards for her work with schools to provide meals and desserts for students at functions. Chair Anna Weddle recommended the "Mindful Mondays" provided by the Town Center Tap House in Daleville where a portion of sales goes to local businesses and organizations. Buchanan board representative Jenny Wilson recommended Austin Electric in Buchanan who support local schools and afterschool activities.
To watch last week's BCPS School Board meeting in its entirety, please visit bcps.live/archives.