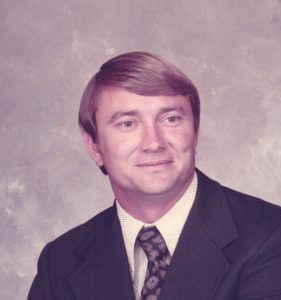 Ronald Elwyn Scott, 84, of Roanoke (formerly of Fincastle) passed away Sunday, September 10, 2023 at his home surrounded by family.
He was preceded in death by his parents, Edison Scott and Ercell Brogan Bake; and siblings, Harless H. Scott, Hettie Hammed, Arnold Scott, Helen Jean Anderson, and John A. Scott
Ron was a graduate of William Byrd High School and Mississippi Delta Junior College in Morehead, Mississippi.  He attended college on a basketball scholarship and also ran track.  After graduation he went on to Delta State University in Cleveland, Mississippi where he was initiated into the M Club for Athletics in Mississippi.  After graduation from Delta State he moved on to St. Louis County for a successful two-year coaching career where he took a small school basketball team to the state finals both years.
Being a mountain man, he always wanted to return to Roanoke.  In 1966 he returned to his beloved mountains and coached for one year and then went into sales of heavy equipment with L.B. Smith in Salem.
In 1976 Ron's dream of moving to the country came true when he, his brother, and two friends were able to buy acreage in Fincastle (Botetourt County). He always said, "We are back to the basics" because the move took place in the centennial year the 200th anniversary of the USA. He and his family made their home there for 47 years before moving back to Roanoke in 2023.
After several successful years with equipment manufacturers, in 1984 he and Charles Gallaher formed Scott-Gallaher, Inc. from which he retired in 2011.  From 1989 to 2000 Ron served on the Advisory Board of Bank of Botetourt.
Ron was an avid golfer.  He caddied at Roanoke Country Club and there a lifetime interest in golf was sparked.  While he loved playing golf all over the United States, Scotland and Ireland with his buddies, his biggest enjoyment was playing golf with his sons and grandsons.  For many years his favorite place to golf and second home was on Callawassie Island, S.C.,  where he made many new friends.
Surviving is his wife and soulmate of 60 years (who he met during his college days in Morehead, Mississippi), Faye Williams Scott; sons, Ron Scott, Jr. (Angela Payne), Jeff Scott (Pam); grandsons, Jeffrey Scott and Jackson (Jeb) Scott; and too many beloved family, friends, neighbors, and business associates to mention.
The family wishes to thank Good Samaritan Hospice for their many acts of kindness during Ron's illness.
In lieu of flowers the family asks that memorials be made to St. Jude Children's Hospital, Prostate Cancer Research Foundation, or to the Alzheimer's Association.
A celebration of Ron's life will be held 3 p.m. Saturday, September 30, 2023 at Simpson Funeral Home, 5160 Peters Creek Road, with the Rev. Carol Johnston and the Rev. Brenda Rowe officiating.  The family will receive friends two hours prior to the service.  Arrangements are by Simpson Funeral Home.