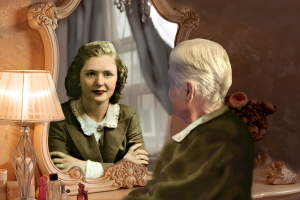 Rena Merrill Wright Tolley, 90, of Buchanan, passed away Wednesday, September 13, 2023.
She was preceded in death by her parents, Morris and Bessie Wright; husband, James R. Tolley, Sr.; daughter, Diane Tolley McClane; grandson, Joseph Spencer Tolley; great-granddaughter, Abbagayle Grace Blankenship; sisters, Marcella Coffey, Virginia Luckado, and Esther Martin; and brothers, Chester, Kenneth, Wilber, Dewey, and William Wright.
Survivors include her children: James "Jim" Tolley, Jr., Bonnie (Rufus) Parker, Nelson "Buddy" (Clarissa) Tolley, Sr., Rena "BB" (Matt) Wright, Tina (Michael) Link, Janet Bryant; son-in-law, James McLane; special daughter, Brenda R. Tolley; grandchildren: Erica, Jennifer, Patrick (Kelli), Lorena (Javier), Angelica, Earl (Jo), Michelle (David), Missy (Anthony), Sonny, Deanna, Sean, Ginny, Chris (Chelsea), Tommy, Shannon (Brian), Brandon (Roxanne), Robert, Katie, James (Megan); great-grandchildren: Madison, Morgan, Maggie, Lakynn, Kase, Spencer, Lynn (Andrea), Terry, Chris (Bizu), Adreona, Ashley, Jacob, Rachael, Talon, Michael (Ceri), Jason, Kristine (Jacob), Callah, Wyatt, Landon, Cove, Zane, Jantzen, Jacqueline, Zoe, Ryan, Kaley, Jerry, Max, Brianna, Jack, Hope, Bella, Anna, Aleyah, Ethan, Kyra, Blake and one on the way; great-great-grandchildren: Halen, Aydin, Salem, Roran and one on the way; sister: Norma Friend; brother: Hamid Wright; sisters-in-law: Judy Vest and Dixie Tolley; and numerous nieces and nephews. Rena loved and was loved. She will be greatly missed.
Visitation was held at 2 p.m. with funeral services at 3 p.m. on Saturday, September 16, 2023 in the Buchanan Chapel of Botetourt Funeral Home.  Interment was in Fairview Cemetery. Online condolences may be made at www.botetourtfuneralhome.com or 540-254-3000.