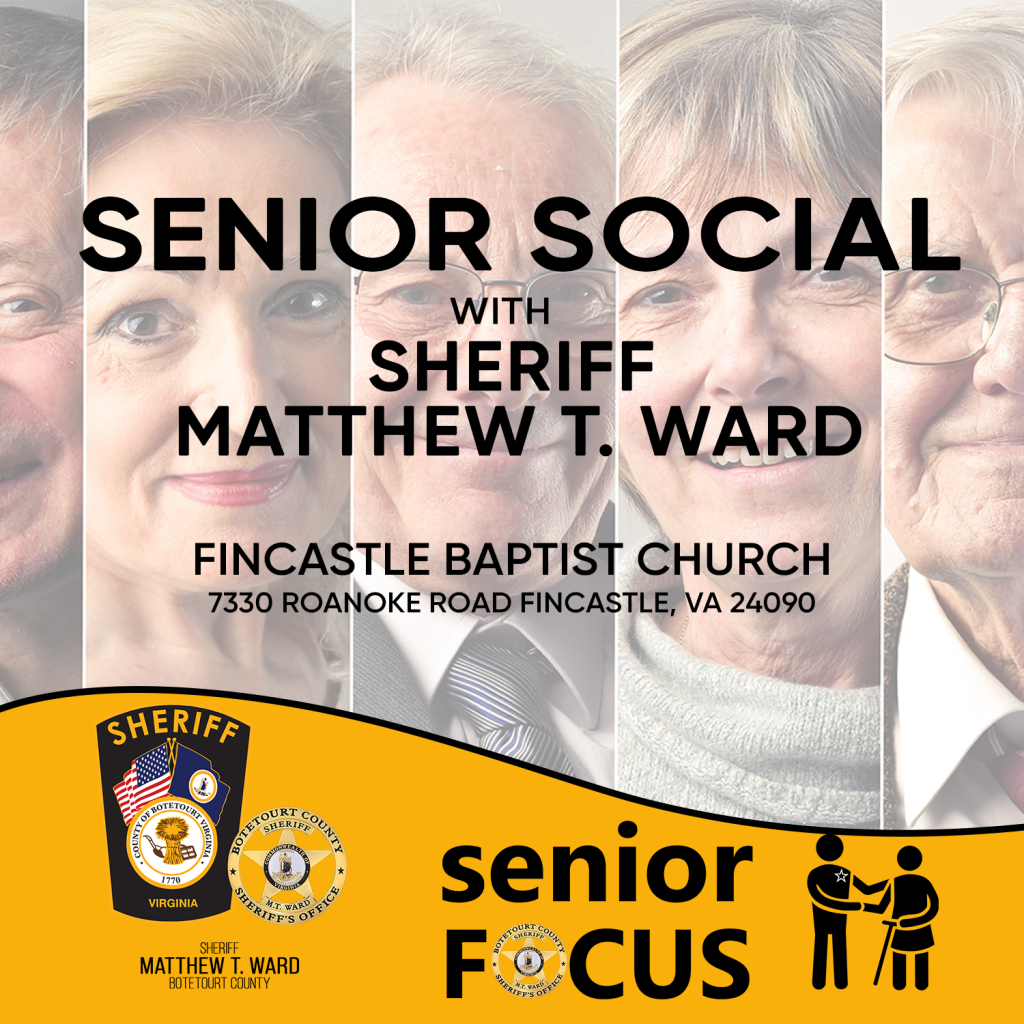 The Botetourt County Sheriff's Office Senior Focus Outreach Program announces its next "Senior Social" event. The event is focused on bringing seniors and law enforcement together to provide a platform to showcase the many services available to Botetourt's 50+ community.
This event will be held Friday, April 28th, from 11 a.m. to 2 p.m. at Fincastle Baptist Church located at 7330 Roanoke Road in Fincastle. A free lunch will be served by the Botetourt County Sheriff's Office and Sheriff Matt Ward will be presenting an abbreviated summarization of the last Senior Social Fraud Presentation followed by Mrs. Cindy Markham our guest speaker from Virginia Navigator during the lunch.
Virginia Navigator is an important partner in our Senior Focus Outreach Program. Virginia Navigator provides over 18,000 online resources focused on keeping Virginia senior's living independent lives. Mrs. Cindy Markham will be providing an overview of Virginia Navigator's website which ensures our seniors have the necessary resources to assist with their needs.
Seniors will be able to visit with many of the public and private services available to seniors. Services such as daily wellbeing checks, general health, and financial wellbeing will be on site. The Virginia Department of Health will be on site with their new mobile vaccination station. Government services will also be on hand to answer questions and help seniors navigate their future needs. The event and all services are provided free of charge to the senior community.
"We remain committed to partnering with our senior community through our Senior Focus Outreach Program," said Sheriff Matt Ward. "Our Senior Social event allows us to network with our seniors, allows our seniors to network with each other, and it facilitates the opportunity for us to provide information to our senior communities in order to prevent them from becoming victims of crime."
Sheriff Ward invites the Senior Community to join him at the Senior Social event this Friday, April 28th, at Fincastle Baptist Church at 11 a.m. For more information on the event, contact Deputy David Moyer in the Services Division at 540-928-2260.
~ Botetourt County Sheriff's Office