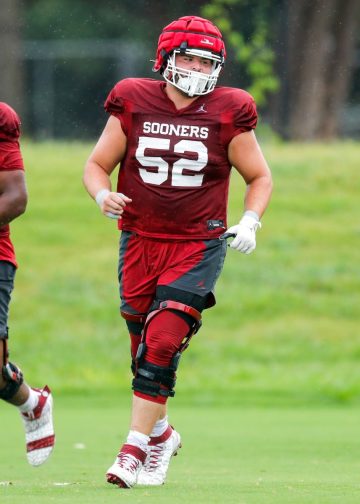 By Eli Lederman/Sellout Crowd
NORMAN, Okla. — It's a 20-minute drive north from downtown Roanoke, Virginia, to the suburb of Daleville and the campus of Lord Botetourt High School.
Historically, the region has existed as an exporter of goods like furniture, wood products and factory-built housing. The school itself is named for Colonel Norborne Berkeley, the British baron who governed Virginia from 1768-70. Situated 50 miles east of the New River, the town and its high school reside comfortably in the very heart of Appalachia.
"You typically find a whole lot of really rugged, tough-ass people here," said Jamie Harless, Lord Botetourt's 12th-year head football coach. "What you get out of that group is you get a lot of tough football players. Football is damn near religion."
That's where Oklahoma offensive lineman Troy Everett comes from. Years before he arrived to shuffle across the Sooners' offensive line this fall, Everett was once an undersized high school lineman struggling to figure out Harless's run-heavy offense.
There on the turf at Lord Botetourt, a stone's throw from the Appalachian Trail, Everett transformed himself into a Division I guard and took the first steps in a football career that's forced him to learn at every stop, through to his debut season with the Sooners he's embarked on in 2023.
"He had to learn at our place. He figured things out at Appalachian State. Now he's running something new again," Harless said. "I think all the things Troy has been exposed to have led to him being a very intelligent lineman."
Five months after he committed to OU from the transfer portal and four games into his Sooners career, these are still the initial stages of Everett's latest football learning process, even if it's been a busy start to life in Norman.
An opening day backup to center Andrew Raym, the Appalachian State transfer has played left guard in all four wins this month, appearing prominently off the bench in relief of Savion Byrd against SMU and Tulsa before Everett made his first OU start on the road at Cincinnati. After joining the Sooners this fall with three years of eligibility and offering versatility across the offensive line, Everett is sure to be a fixture up front for OU's present and future.
"He can go in there and be a starter at any time," Brent Venables said. "He's done a great job since he's been here."
Everett's early emergence with the Sooners has come with a unique juggling act providing the third-year lineman a thorough education. While he spends his Saturdays at guard, typically operating to Raym's left, Everett practices during the week behind Raym, preparing at center as a fail-safe for the Sooners' seasoned senior.
"I love Troy," Raym said this week. "Troy's got a motor. Troy loves to play ball…and he's just an all-around good football player. He's fun to play next to."
The balancing act challenges Everett physically in areas like the subtle technique changes from center to guard. It presents mental hurdles, too.
Practicing at center is a crash course in understanding the entire offensive line. Everett understands not only his job but the responsibilities of the linemen on each side of him. Success playing guard on Saturdays, however, hinges on less thinking and more doing.
Everett is working patiently on that balance. Deep breaths on a football field come easier when you've cleared hurdles before.
"It definitely has its moments where sometimes it can be a challenge," Everett said. "Other times it's very fun. I like to look at it more as an opportunity."
By the time Everett graduated from Lord Botetourt and left home for Appalachian State in 2021, he was a top-30 prospect in Virginia and carried most of his current playing weight of 294 pounds.
He was an entirely different player from the one who arrived at Lord Botetourt as a 245-pound junior from nearby Northside High School two years earlier.
"He had had no prior development," Harless said. "Troy was a JV football player at the school he transferred from. That sounds crazy now."
The program Everett joined at Lord Botetourt has developed into a local power under Harless in a little over a decade. Harless estimates the Cavaliers had roughly 200 wins in the 54 years before he took over. Twelve seasons in at Lord Botetourt, his running victory count sits at 115.
That's important to know because the Cavaliers have reached their sustained success by almost exclusively running the football. The complex playbook Harless deploys initially left Everett puzzled.
"He was overwhelmed," Harless said. "We were running some zone schemes and it was tough at first. He was going from speaking Chinese to English."
An understanding of the run scheme came in time and there were never doubts over Everett's physical talent. Harless recalls the athleticism he saw running Everett through drills during his first practice session at Lord Botetourt.
"We've had some good ones. But man, this kid is special," Harless told one of his assistants afterward. "You could see that in 15 minutes."
The player Harless watched that day emerged as a first-team All-State selection, helped the Cavaliers to two state title games and became the latest in the program's recent production line of college linemen. By graduation, Everett was bench pressing 405 pounds and preparing to play guard for the Mountaineers at Appalachian State.
His high school football transformation was complete and his offensive line future seemed settled … until it wasn't.
"Two weeks before I moved into App, the O-line coach texted me and said to start snapping," Everett said. "From there on I played center."
The first crucial point Everett learned about playing center is that you can't think about the snap.
"Because that's the first thing that'll happen with a bad snap," he explained. "Just get up there, grip it and rip it. That's what I like to do."
No different from high school, Everett waded patiently through the process of learning his new position at Appalachian State.
He redshirted as a freshman in 2021, then appeared in 10 games with six starts at center in 2022.
In 262 pass-blocking snaps last fall, Everett was responsible for only one sack before he hit the spring portal and settled on the Sooners in early May.
Practice reps at center with OU are giving Everett his schooling on the Sooners' offense. Game day snaps at left guard are providing his earliest opportunities with the program. He may already be OU's most versatile offensive lineman.
Right guard McKade Mettauer explains the difference in playing the two positions.
"If you can play center you can play a lot of positions because you have to snap the ball and make calls," he said. "When you play guard you basically just get to play football … you don't have to focus on a lot of other things."
Everett learned not to overthink a snap at Appalachian State. It's the thinking he does at center Monday-Friday that he'll be working to break free from whenever he steps in at guard against Iowa State.
"I think I get out there and I'm trying to do too much," he said. "I just need to do my job and trust around me and trust the coaching. Which I do. It's just hard to break some habits I've had in the past."
A frequent strategy for the lineman who could represent OU's future at center? Asking questions. Lots of them.
"I don't care who you are," Everett explained. "I'm gonna ask you a question about what happened to try to get better."
For that, Everett leans heavily on the likes of Raym and Mettauer and starting tackles Walter Rouse and Tyler Guyton. He's equally liable to prod one of the Sooners' interior defensive linemen with a question after practice, too. If Jonah Laulu hits him with a new move, Everett wants to know about it.
It's just another piece of the learning process.
"I just like to ask questions," he said. "Your brain – you know as much as you know. Other people might know more so you might as well take their knowledge and learn from it."
Eli Lederman reports on the University of Oklahoma for Sellout Crowd. He can be reached at eli@selloutcrowd.com.