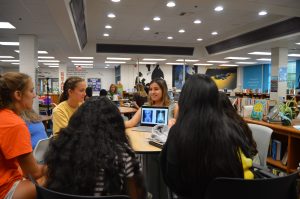 English Learner students and their families, Lord Botetourt High School mentors, and many professional community leaders held a one-day conference July 26 titled "A.I.M. High at Read Mountain Middle School." The acronym "A.I.M." stands for Achieving Infinitely More. Lord Botetourt senior Juliette Anaya came up with the opportunity for Botetourt County Public Schools (BCPS) English Learners this summer. Juliette and her sister named the day-long event "A.I.M. high" because that is what BCPS wants their students to do: aim high and reach for the stars.
During this action-packed event, the middle schoolers heard an inspirational message from keynote speaker, Ferrum College President Dr. Mirta Martin. She is originally from Cuba and came to the U.S. as a young person. She focused on the importance of education and goal setting. Dr. Martin encouraged students to start making a plan now while they are in middle school.  She emphasized the importance of goal setting and aiming high regardless of your personal circumstances.
In the morning, the students were led by Teresa Simmons and the Technology Resource teacher from Read Mountain Middle School (RMMS). The students focused on exploring different careers using a special computer program, Major Clarity. They took an interest survey to start leading them to specific careers that lined up with their interest. The students then used the program to research the education needed and the salary earned for the specific careers of interest. BCPS English Learners had an opportunity to create a picture frame that included their photos, career aspirations, and their goals in a picture frame.
After lunch, the students participated in informal tabletop conversations with successful members and leaders of the local Hispanic community. Members of the Botetourt community led table top discussions with the middle school students.
The panel consisted of a school principal in Roanoke City Public Schools, Dr. Brenda Russ, LBHS and Virginia Tech graduate Ms. Katherine Anaya, President of Ferrum College Dr. Mirta Martin, Natalia Calderon- Patient care technician and  patient observation assistant, Diana Portillo – Patient care technician medical assistant, Debbie Suyapa Diaz – Paralegal/legal assistant, and Karen Castaneda – radiologist.
Later in the afternoon, students had the opportunity to meet high school Spanish students who will act as yearlong mentors to the middle school students.  They got acquainted for the first time while participating in team building activities provided by Camp Bethel counselors. In the evening, the parents came to the school to meet the principal, Debbie Harris. The parents had the opportunity to get help with back-to-school paperwork on the computers. The middle school students received their schedules and were able to explore the school to find their classes, and then ended the evening with dinner and door prizes for the adults and students.
After this event, BCPS hopes to continue providing opportunities for middle school and high school students to remain connected in their mentor relationships. Additionally, they hope to do some field trips, such as taking both the middle school students and their high school mentors to Virginia Western Community College and perhaps visiting the STEM labs there.
BCPS Spanish teacher Melissa Amos says, "I think it is important for our students (both the middle school and high school students) to be aware of the job opportunities that exist for them in Botetourt.  We would also like to take the students on field trips to various businesses in Botetourt County so they can see STEM in action in their community."
"This event was successful in getting our English Learner students excited about coming back to school for the 2023-2024 school year," RMMS English Learning teacher Susie Bruce said in a recent email. "The parents were very thankful for the extra help getting back to school forms completed and getting questions answered prior to school starting. We are looking forward to growing this program and its possibilities.
"I am so proud that one of our own Botetourt County high school students had the vision and created such a great summer program for our English Learner students.  A huge thank you to Mrs. Debbie Harris and Melissa Amos for doing the leg work needed to make this vision come into reality. We are super excited about this program and its possibilities."
BCPS would like to thank the community partners who helped with food donations, gift cards, and door prizes: Hardee's in Daleville, Tizzone's, Papa Johns (Daleville), Farmburguesa, Fleet Feet, Town Center Tap House, Bellacinos, Pancho's Mexican restaurant, Rodeo Chico, Angelle's Diner, Sheetz, Camp Bethel,  Jan Hendrickson of Green Designs, LLC, Bonnie Chavez, the Wilcher family, and Rader Funeral Home.
~ Fincastle Herald staff report