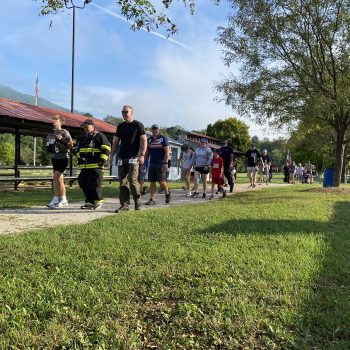 By Matt de Simone
Sirens & Salutes, a local non-profit organization committed to honoring and memorializing first responders and veterans, held its annual 9-11 Memorial Walk at Buchanan Town Park last Saturday morning.
Community members joined the organization honoring those emergency workers and law enforcement officers who lost their lives during the attacks on New York's World Trade Center during the tragic morning of September 11, 2011. An American flag that flew over ground zero for three months during the subsequent rescue efforts was on hand for walkers to carry with them throughout the walk. A log book associated with those who came in contact with the flag was made available for participants to sign.
"It was nice to see people come out to remember, especially the kids," Sirens & Salutes co-owner Bill Price said when recently asked about the walk. "We're very thankful for everyone who was there."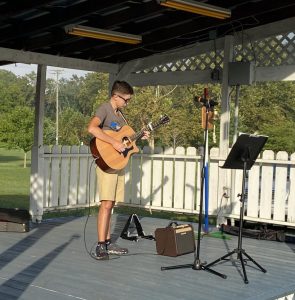 Price shared a few words prior to walk and thanked everyone for joining them in honoring the fallen. Austin Myers provided an acoustic performance as the community gathered and sang the national anthem before the walk began.
Earlier last week, Price brought the flag that flew over ground zero to James River High School where the varsity football team had a chance to share a moment with the flag, recognizing the tragic events of Sept. 11, 2001.
"That was a very special opportunity for our team," James River head coach Tim Jennings said in a recent email. "(The students were) able to hear Mr. Price speak on his involvement with not only the flag, but also his charity. Our students' perspective on 9/11 is really no different than any other event in (history's past), because they did not experience it. While it isn't as old as some events, like the attack on Pearl Harbor, they still have a hard time connecting to it and understanding how pivotal that day was in changing our country, but also our place in the global context.
"It's really cool that their picture and our signatures will be connected to that flag forever. Not everyone has that opportunity, and one day they'll see pictures of that flag over Ground Zero, and they will be able to say they got to touch or hold that flag. That connection will always be with them."
For more information about Sirens & Salutes, visit www.sirensandsalutes.org.