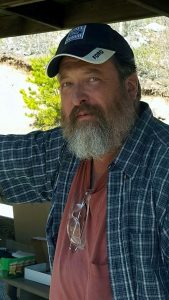 Lee Sumpter, 64, of Fincastle, passed Friday, June 16, 2023 unexpectedly from complications of minor surgery at Lewis Gale Medical Center.
Lee was born in Roanoke August 5, 1958 and lived in the home that he built in Fincastle for the past 30 years. He was the son of the late Howard Lee Sumpter and Annette Lee Sumpter, who survives.
Lee was a general contractor for more than 30 years and was Building Inspector for the City of Roanoke Housing Authority for the last 15 years.  He was one of the founding members of the Roanoke Valley MOPAR Club and an avid outdoorsman.  Most importantly, he was a family man and a man of faith.
He was not married long enough to his wife, Sandy Toler Sumpter; sons, Kyle Sumpter (Elizabeth Guarino) of Daleville, Andrew (Kristin) Doss of Woodbridge, and Jason (Serita) Doss of Roanoke; daughter, Carly Sumpter (Faraz Khan) of Salem; his mother Annette Lee Sumpter of Daleville; sisters, Becky (Ned) Adamson of Harrisonburg, and Marie (Greg) Strom of Roanoke County; nieces: Svetlana Adamson and Maria Adamson, both of Harrisonburg, and Lindsay (Corey) Vantine of Winchester.
A private family gathering will take place at a future date.
In lieu of flowers, memorial contributions may be made to Blue Ridge Free Clinic, 831 Martin Luther King, Jr. Way, Harrisonburg, V. 22801. Online condolences may be made to Lee's family at www.rader-funeralhome.com/tributes/Lee-Sumpter.