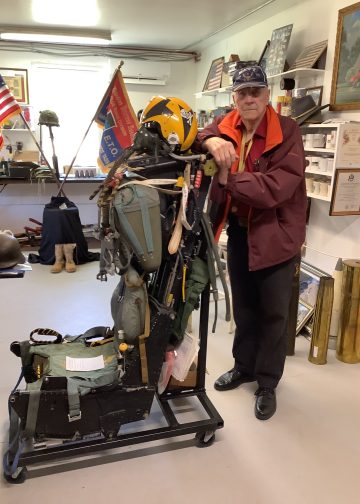 By Lee Henry, Botetourt Sunshine Girls
The Sunshine Girls visited veteran Lee Saunders Anthony to tour his barn museum. We knew we were in for a treat when we were greeted with uniform mannequin at the door. We had planned on hearing Lee's stories when he served in the Navy but were overwhelmed by his WWI and Civil War collections. His dad was a WWI Veteran Lee Hill Anthony named after two generals, that being General Robert E Lee and General A.P. Hill.
The first thing that caught our eye was the 80th Division flag he has proudly hanging in his office. WWI in the 80th Division consisting of Pennsylvania, Virginia and West Virginia provided troops for the 80th Division, all three are states that lie on the Blue Ridge Mountains, and therefore they adopted a patch with the three mountains calling it the Blue Ridge Division.  His dad was in the 317th Division which was all from western Virginia places like Bedford, Roanoke, Botetourt, etc.  Lee has a roster of the ones in that division.
Lee shared what he had been researching for several years of WWI history. His dad was left for dead on a field after explosion of a German artillery shell and eventually regained consciousness dragging himself about a mile in the damp cold air to the aid station. He told us he remembers his dad still had shrapnel in his body and scars on his forehead. Lee said they lost many buddies being killed, wounded and maimed, which he said was even worse than death.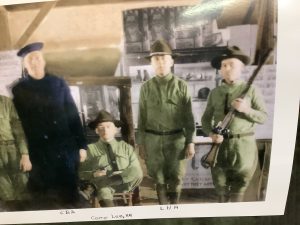 Lee visited Europe in 2018 showing us a picture of him standing in the field approximately where his dad was injured in 1918 when the bombers went off as his words were, "80th division went over the top." After 100 years later for him to go there and see the area was fascinating to us. Lee's grandfather was in the Civil War at Fort Harrison in The Richmond Defensive. Lee has shadow boxes made up of both his dad and grandfathers' items. He tells us his most prized possession of his collection are his dad's tunic, gas mask, helmet, and New Testament.
Lee has a picture of a statue that was erected over there in memory of the 28th Regiment of the 1st Division that was first American troops to do battle with the German troops in WWI.  Lee was there when the statue was dedicated, another trip he took overseas, one of many.
Lee was at Roanoke College at the time of the Korean War.  His father said, "Son, you are not going to join the Army."
Lee joined the Naval Reserve in 1951 with an application in Officer Candidate School (OCS).  During his time in Orange, Texas, on the Sabine River while waiting for his medical misdiagnosis on his ankle he served doing jobs on the deck force and then transferred to security force. Then, finally he said the Security Division chief transferred him to the Electronics Division which was where he really wanted to be working as a technician.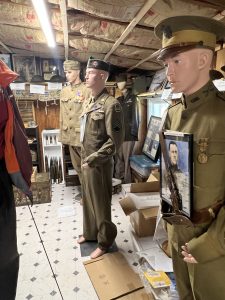 Lee said he first was assigned to the clerical job being in charge of all the records and later proved himself by passing the exam becoming electronics technician third class petty officer. He was excited to be doing the electronics but the division officer was retiring and Lee chuckled when he said they told him, his job now was to break in the new division officer.
Lee followed his dad's interest in flying and took lessons. He started out in a Piper Cherokee 140 then went on to get his private and commercial license; also instrument, multi-engine and airline transport pilot rating. He flew for a time for France Flying Service. In looking at his pictures of the aircrafts, Lee said he was an air intelligence officer for VAW-78. When he went to the squadron, they had the "Willy Fudd" – they would call the radar planes that, he explained, were the early warning eyes of the fleet to keep watch for enemy ships, submarines and planes.
He had experiences in a 204 plane out of Oceana and had flown in E-2Hawkeyes. Another picture was of a P-3 Orion where he had six hours of stick time flying this aircraft from Pax River to largest field of the Azores which he said was "a display of St. Elmo's fire over the windshield."
There was so much more to be shown, the three hours was just not enough time to see all of his collection. What a privilege it was to not only get this show and tell experience but so educational and very heartening to see this veteran who has so much history and knowledge to share. This former Sunday School teacher who at one time revisited Israel to be baptized in the Jordan River was so inspiring.
When I asked him what his thoughts are on our world today in 2023, he said, "We need to get back to God, first and foremost. We need to get back to the constitution. We need to get back to what this country was when it was founded."
This Memorial Day may we all stop and remember all those who died through all the years in active military service. Lee Anthony will spend his Memorial Day returning to Europe for the 26th time to assist in the ceremonies in uniform at the Epinal American Military Cemetery.