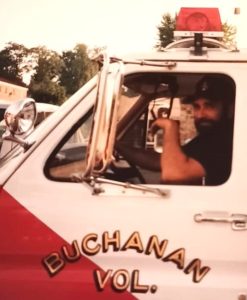 Thomas "John Henry" Edward Taylor, 76, of Buchanan, passed away Tuesday, October 3, 2023.
Born November 12, 1946 to Leo and Della Campbell Taylor, John Henry was the youngest of his deceased parents and siblings, Wesley Edward "Nubbin" Taylor, Eva Mae "Sallie" Harris (Harry B. Harris, Jr.), and Betty Jean Welch (Louis E. Welch). Also preceding him in death were his wife, Joan Wright Taylor in May 2000; wife, Rebecca Wright Taylor on June 26, 2023; step-children, Chris and Rebecca Weeks; and special nephew, Nicki B. Harris on September 26, 2018.
John Henry is survived by two daughters, Charlotte Taylor (Will) Hill and Ellen Taylor; granddaughters, Samantha Lynn Hill and Stephanie Gean Sloan; special nieces and nephews; Vicki Harris (James B.) Eubank, Sandra Welch (Forrest) Thrasher, Brenda Welch (Donnie) Barger, and Tammy Taylor (Kenneth) Hyden; great-nephews and nieces, James Edward Eubank and Family; Ryan Thrasher and Family; Jaylen Hyden; and Brandon Taylor; special cousins, Cleatus (Joyce) Newcomb, Shirley Beckner Bryant, and Norma Newcomb Broughman; and sister-in-law and special friend, Helen Wright McCullough.
John Henry proudly served with the Buchanan Volunteer Fire Department for over 25 years alongside his brother, Nubbin, where they were both lifetime members. He retired from James River Limestone Co. with 10 days shy of 41 years. John Henry was a dedicated UVA sports fan and also played various sports locally on both school and church sports teams, especially basketball and softball. He is lovingly remembered as a gentle, patient, and humble person who always put the needs of others before himself.
John Henry and Becky were blessed with amazing medical care from Blue Ridge Cancer Center and Special Care Units at Roanoke Memorial Hospital. These last remaining days, he was able to spend time at home with the special care from Good Samaritan Hospice.
Sincere gratitude from John Henry and his family for all the friends and neighbors who have shared nothing but kindness, love, and prayers throughout the illnesses of John Henry and Becky.
Visitation will be held from 1-2:30 p.m. with a few loving words spoken about John Henry to close that time at 2:30 p.m. on Sunday, October 15, 2023 at the Buchanan Chapel of Botetourt Funeral Home. In lieu of flowers, please consider donations to Good Samaritan Hospice, 2408 Electric Road, Roanoke, 24018.  Online condolences may be made at www.botetourtfuneralhome.com or 540-254-3000.