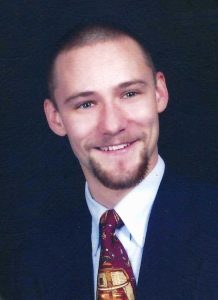 Brian Matthew Tolley, 42, of Roanoke, passed away on Wednesday, April 26, 2023.
He was preceded in death by his grandparents, Terry and Bess Saunders, and Mickey and Louise Tolley.
Brian was a graduate of Lord Botetourt High School and Virginia Western Community College (mechanical engineering major). In his youth, Brian was a member of Boy Scout Troop 472, played soccer and baseball, and loved fly fishing and tying his own flies. He enjoyed NASCAR, riding his Harley Davidson, and only rooted for America's team, the Dallas Cowboys. He especially loved his Labrador Retrievers, Sampson, Riley, Duke, and Harley.
He is survived by his loving parents, Terry and Ramona Tolley; sister and brother-in-law, Lauren and Jake Tuck; nieces and nephews, Hannah, Jacob, Mason, Berkley, and Atleigh. He is also survived by aunts and uncles, Becky and Alan Collins, Linda and Earl Richardson, Debbie and Tony Myers, and Allen and Twila Tolley; cousins, Brad and April Collins, Chris and Lindsay Collins, Tim Richardson, Adam and Katie Richardson, Amber (Myers) and Scott Huffman and their children; and special long-time friends, Dusty Patterson, Brian Dickerson, Stephen Day, and Tony Davidson.
A Memorial Service was held at 2 p.m. on Monday, May 1, 2023, at St. Mark's United Methodist Church in Daleville. Visitation was held one hour prior to the service. Pastor Terry Clark officiated. The service was live-streamed at: https://www.youtube.com/channel/UCTH5ZJGIACQnFcOtlEwJPaA.
Memorials in memory of Brian may be sent to St. Mark's United Methodist Church, 19 Cedar Ridge Drive, Daleville, 24083 or to the Roanoke Angels of Assisi. Online condolences may be made at www.Oakeys.com. Arrangements were by Oakey's East Chapel, (540) 977-3909.