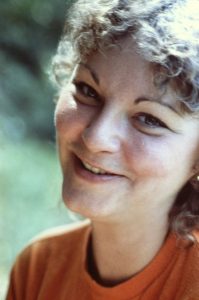 Deborah Paige "Debby" Proffitt, 72, of Roanoke, died Monday, April 24, 2023, at LewisGale Medical Center in Salem. She had been a resident at Friendship Health and Rehab for 3-1/2 years.
Debby was born in Woodstock, Va. but spent the majority of her life in Salisbury, Md. She graduated from Wicomico Senior High School and moved on to work at WBOC TV/Radio as a receptionist /secretary for approximately 25 years. In 2020 she moved to Roanoke with her mother and worked at Botetourt County Department of Social Services for several years.
She was predeceased by her father, Joseph Harrison Proffitt; her grandparents, Fulton and Helen (Houseman) Waid and Lawrence and Ida Mae (Hogan) Proffitt; as well as several incredible aunts and uncles.
Left to cherish her memory are her mother, Billy "Sis" Waid Proffitt of Roanoke;  sister, Beverley "Jody" Haltom (Guy); nephew, Cody Harrison Haltom; niece, Laurie Paige Haltom; as well as a great-niece, Laurie Eva Plante, and a great-nephew, Roman Kade Almazan, all of Vidalia, Ga.
Debby loved the Lord, her family, and many friends. She also leaves behind several very special cousins, some known as "The Sisterhood," (sorry gents, y'all didn't qualify) and two aunts, Meredith "Reedie" Waid of Fincastle and Margaret "Miggie" Proffit of Virginia Beach.
Debby always tended to be a "goofball" and kept many people happy with her antics. She also adored children and was "auntie" to many! She loved reading, music, and dancing. She was the official "Dancing Queen" of the family!
The service for Debby Proffitt was held at 2 p.m. on Saturday, April 29, 2023, at Oakey's North Chapel in Roanoke. While flowers are appreciated, a better tribute to Debby would be a donation in her memory to St. Mark's Episcopal Church, Fincastle. Online condolences may be made at www.Oakeys.com.