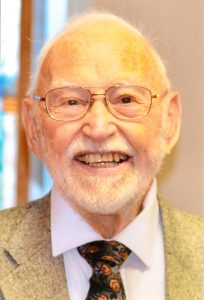 Werner Ernst Vogt, 94, of Troutville, left his Earthly surroundings of 94 years to join God and his wife, Edith, on June 2, 2023.
He was a member of Our Savior Lutheran Church where he always appreciated being ministered to by Pastor Workentine and loved his church family. He was an avid stamp collector since his teenage years, enjoyed reading everything, was a huge gardener, and iron worker.
Papi shared the absolute love he had for America by taking his family on yearly vacations up and down the East Coast from New Hampshire to Roanoke to Myrtle Beach and Florida and also visiting Seattle, Wash., to Rifle, Colo.
Gabriela and her husband, Jerry, had the privilege of caring for Papi within his home.
He is survived by his son, Rudiger Vogt and his wife, Karen; daughter, Gabriela Gusler and her husband, Jerry; five grandchildren, Scott Zarcensky, Christopher Zarcensky, Michael Zarcensky, Corey Gusler, Tara Mills and husband, Stephen; five great-grandchildren, Zoey Zarcensky, Killian Zarcensky, Mathew Parrish and wife, Alexis, Madison Parrish, Aspen Parrish; one great-great-grandson, Bearett-Adrian Parrish; one sister, Christel Hofius; sister-in-law, Irmtraut Vogt; special nephew, Erich Vogt and his wife, Keanu, and their daughter, Lori; nephew, Zachary Allman; and numerous other beloved nieces and nephews in Germany.
A funeral service will be held at Our Savior Lutheran Church, 9068 Cloverdale Road, Troutville, on Wednesday, June 7, 2023 at 2 p.m. with Pastor Paul Workentine officiating. Interment will follow in Evergreen Burial Park. The family received friends on Tuesday from 2 to 4 and 6 to 8 p.m. at Oakey's East Chapel, 540-977-3909.