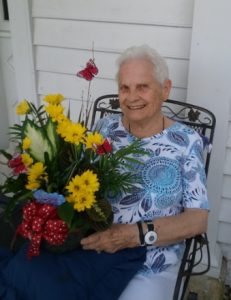 July 15, 1929 – July 20, 2023
Meredith "Reedie" Beckner Waid, 94, of Fincastle, passed away July 20, 2023.
She was preceded in death by her parents, Gordie Ferrell Beckner and William Edward Beckner of Bedford; and Robert Waid, her husband of 67 years.
She is survived by her daughters, Bobbie Bowman and husband Mitchell Bowman, and Sally Waid; and her son, Fulton Waid and wife Ulli Waid. She is also survived by grandchildren, Meredith Bowman Shelton (David Shelton), Robert Waid Bowman (Joanna Wood Bowman), Roseanne Bowman Jacob (Peter Jacob), Mitchell Bowman Jr. (Jessica Gisclair), and Lucas Waid. Surviving great-grandchildren are Aaron Shelton, Katherine Bowman, Palmer Waid Bowman, Archer Benjamin Bowman, Andrew Jacob (Julianne Rainone Jacob), and Ali Jacob (Adam Draper); and a great-great-granddaughter, Marlowe Jacob.
Reedie served the community in many ways: as a fire spotter, Fincastle Rescue Squad volunteer, served on the vestry of St. Mark's, including terms as Senior Warden, St. Mark's Episcopal landscaping, co-founder of The Botetourt Food Pantry, Meals on Wheels volunteer, past Chairman of Blue Ridge Behavioral Healthcare and a volunteer for the local Red Cross Blood Drive. She and a friend made regular visits to Alderson Correctional Institute, a federal prison in West Virginia, to provide support and encouragement to female inmates. She was a Marriage Commissioner for the Commonwealth of Virginia, and the Mayor of Fincastle for two terms.
The family would like to express our appreciation to Reedie's wonderful caretakers for their continuous love and support: Debi Phelan, Keith Cook, Becky Gay, and Barbara "Sam" Starkey.
In lieu of flowers, please consider a donation to Botetourt Food Pantry, St. Mark's Episcopal Church or the Town of Fincastle's Big Spring Garden project. A private memorial service is planned.