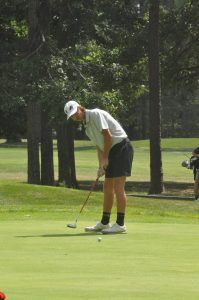 The Ashley Plantation course in Botetourt County will be the site for the Class 2 Sub-Region golf tournament on Monday, September 25.
The James River team is familiar with the course and hoping to do well. The top three teams and top six individuals will advance to the Region 2C tournament on Monday, October 2, at the Great Oaks course in Floyd County.
Last week the Knights hosted Greenbrier East and Glenvar at the Botetourt Golf & Swim Club and James River came out on top with a score of 318. Leading the team was senior Dylan Hicks with a 75 while freshman Landon Bolling shot a 78. Haden Parker and Mason Gilliland shot 82 and 83, respectively.
"We are playing great golf right now, but there's always room for improvement," said River coach Donna Cox.  "The guys are working hard."
The Knights will play in a jayvee match at Cliffview on Wednesday of this week and the top five golfers are representing James River in the Swing4Schools Golf Tournament at the Botetourt Golf & Swim Club on Thursday.