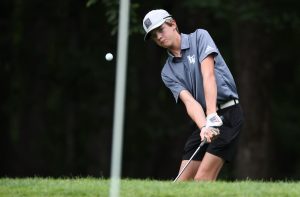 Lord Botetourt came from 15 strokes behind to pass the Northside golfers in the final round of regular season Blue Ridge District play Monday. The Cavaliers shot 311 to Northside's 332 at the Blue Hills course in Roanoke County.
The BRD regular season tour consists of six rounds, one each at the home site of the six district schools. The final round was scheduled for Blue Hills, William Byrd's home course, last week but rains wiped that out and the round was rescheduled for this Monday, with everyone starting over. Coming into that round Northside held an overall 15-stroke lead over the Cavaliers, 1,088 to 1,103, but LB outshot the Vikings by 21 strokes Monday to finish at a district best 1,414 to Northside's 1,420.
Lord Botetourt's Alicia Davidov led the Cavaliers to the title with a medalist score of 72. Aiden Mitchell was next at 75, followed by Jeremy Simmons and Dylan Gonce at 82 each.
The final standings found Franklin County in third place with 1,451, William Byrd in fourth at 1,470 and Staunton River in fifth with 1,797. William Fleming did not have a complete team.
LB did not lead at any point of the season and only outshot Northside once in the first five rounds, by two strokes at Hanging Rock. Ironically "The Rock" is Northside's home course. The Vikings outshot LB by seven strokes in the match at the Botetourt Golf & Swim Club to build the 15-stroke lead, then the two tied at Mariners Landing in the final round before Monday's showdown at Blue Hills.
In the individual battle Nick Crawford of Northside shot 77 Monday and held on to win the championship over Nathan Carter of William Byrd, who shot 75 on his home course. Crawford won the season title by 0.7 points over Carter in the BRD season scoring system.
The Blue Ridge District teams will gather again on Thursday of this week for the district tournament championship. That will be at 1 p.m. at the Ole Monterey course and it's for a trophy and pride only. Things get serious next Tuesday, September 26, when LB plays in the Region 3D tournament at the Draper Valley course in Draper.