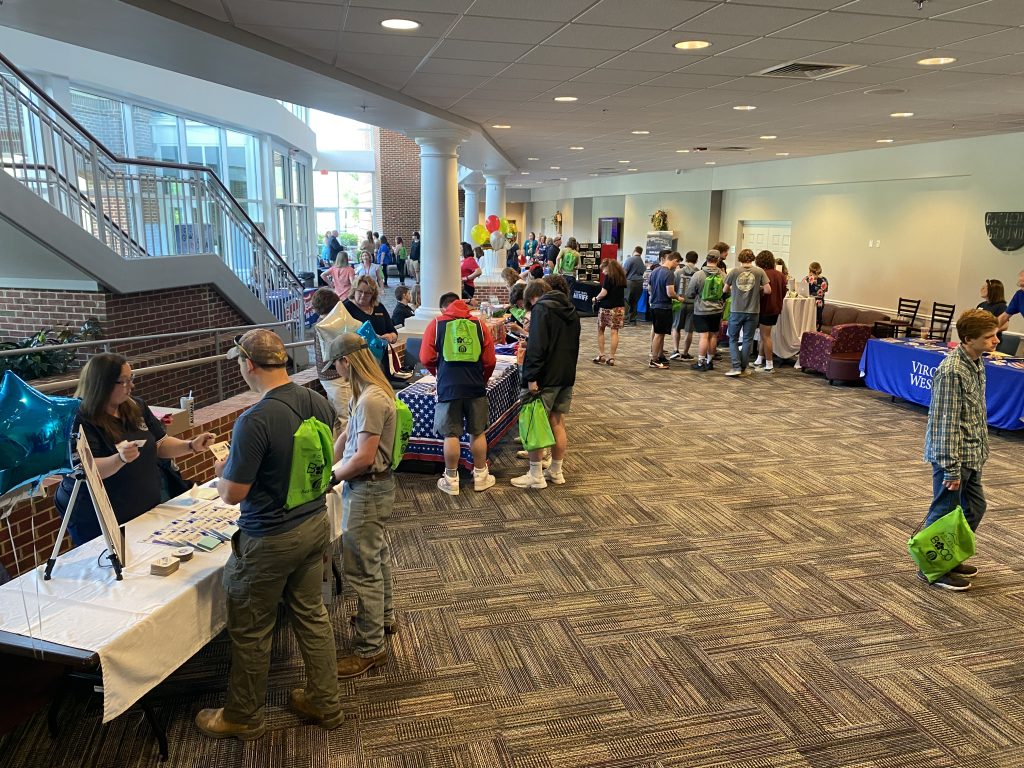 By Matt de Simone
Botetourt County Public Schools (BCPS) students learned more about potential careers within the area last Thursday in Bonsack.
Approximately 200 students and 30 businesses gathered at the Bonsack Community Life Center for a morning of presentations and an "employment fair" featuring local employers.
Superintendent Dr. Jonathan Russ and Instructional Supervisor and Botetourt Technology Education Center (BTEC) Principal Mike Ketron welcomed the students to the main hall before they ventured out into the foyer of the community center.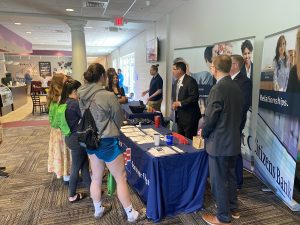 "One component of our strategic direction is 'every student graduates prepared for meaningful employment, higher education opportunities, or military service,'" Russ stated when asked about last week's event. "This commitment was at the core of our first BCPS Career Summit, during which students had the unique opportunity to meet with workplace and industry professionals.
"Students had real conversations about employment, interviewing, making smart financial decisions, building credit, personal safety, and basic vehicle maintenance. They met with local business representatives during the day-long employment fair, had the opportunity to register to vote with our county registrar, and build a network for their future.
"I appreciate everyone who contributed to making the day not only a reality but also a tremendous success."
The summit included session presenters sharing information about jobs in finance, employment, car maintenance, and safety. During the presentations, students heard from local professionals representing BCPS, Botetourt Sheriff's Department, Altec, Chick-fil-A, MAAG/Gala Industries, ReMax, Union Home Mortgage, Bank of Botetourt, and Berglund.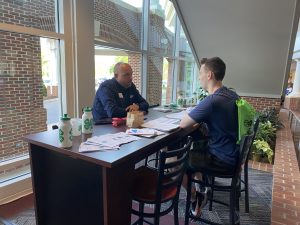 "I am very grateful for our community partners who came out and volunteered their time to take part in this learning opportunity for our senior students," Buchanan School Board representative Jenny Wilson said in a recent email. "I appreciated the practical knowledge they learned about basic car maintenance, finance and home ownership, job application and interview tips as well as self-defense tactics taught by our Sheriff's Department. This seminar had been in the works years ago, but COVID restrictions in the last several years shut it down. I am happy that our administration was able to get it off the ground again and turn it into a very successful event."
County Administrator Gary Larrowe also visited the event and was impressed by the information local student sgained meeting with local professionals.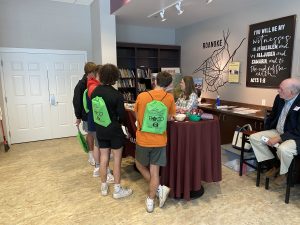 "The Career Summit was a great event in multiple ways," Larrowe said when asked about the event. "Giving high school seniors and local business an insight to opportunities and talent is desperately needed by both the students and the business community. This event helped to connect Botetourt County businesses to students who will be the new talent pool no matter if it is immediately after 12th grade or after higher education."
According to BCPS Communication Specialist Mike Moser, the event saw a "strong" response from potential employers. Local businesses were on a wait list to participate in the employment fair. BCPS hopes this will be an annual event for county students.
To learn more about "what's happening" in BCPS, visit https://www.bcps.k12.va.us/calendar for a list of upcoming meetings and events.