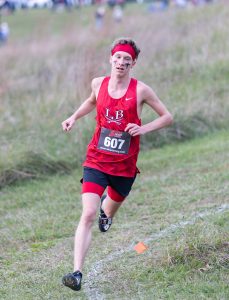 The Lord Botetourt and James River runners will be competing in the annual Metro Cross Country race in Blacksburg today. The race has been held since the mid '70s and has been run at several different locations, with Blacksburg serving as the home base in recent years.
Lord Botetourt warmed up for the Metro by running in a quad-meet at the Salem Municipal Golf course last week. Host Salem, Glenvar and Cave Spring also competed. The Salem boys and Cave Spring girls were team champs with the LB boys taking third and the Cavalier girls were fourth.
LB's top boy runners were Tristan Marshall and Rye Jackson, finishing one millisecond apart. The top girl runner was Addison Purser, running a time of 22.45, followed by Erna and Amelia Dietrich.
"This is a fun race for our runners," said Botetourt coach Elizabeth Wilson. "All of our runners are able to race in the same race at once. We are looking forward to racing our varsity runners this week in our final regular season race."
Next Wednesday, Oct. 25, the Greenfield course in Daleville will be the site of the Blue Ridge District cross country meet. The Three Rivers District does not have a district meet.