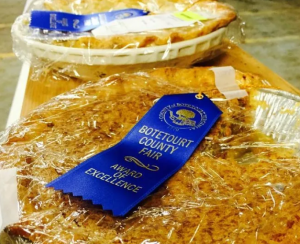 By Matt de Simone
Livestock, local fare, and friends return for a fun weekend in Buchanan this Friday.
The Botetourt County Fair takes place this Friday from 5:30 until 8:30 p.m. and Saturday from 9 a.m. until 4 p.m. The event centers on the preservation of the past, promotion of the present, and education of the future of agriculture with a goal to hold and promote a county fair each year to serve as its primary medium to achieve its mission.
Organized through the Botetourt County Fair Association, Inc., this annual fair is a free admission event taking place at the Buchanan Town Park in Buchanan. The fair provides an opportunity for kids, young and young-at-heart, to learn more about the rich agricultural heritage of the region from local working farms, 4-H programs, as well as sample local fare, including Botetourt grown products.
This annual event also highlights the heritage of the community, and its ties to agriculture, industry, and businesses. The fair's primary focus is to serve as a showcase of the talents of the youth of the community by providing a means of education, exhibit and competition of the various animal and non-animal projects the youth are involved in.
Amy White, the Buchanan representative on the Botetourt County Board of Supervisors, has witnessed the expansion of the Botetourt Fair over the years. She expressed her excitement for this weekend's event in a recent interview. White's been involved with the fair, along with Kate Lawrence (President), Scott Stevens, Emily Bailey, Katherine Carter, and many other helping hands, since the first fair held over a decade ago.
"This event has culminated with our poultry auction where we have our youth showing the poultry that they've raised and selling part of those and it's just a really great event to get these folks into the show ring," White said. "One of the most important things to come from all this is to get our kids in the show ring exhibiting their animals and their projects that they've worked so hard on. The lessons that these young people learn from these experiences are just immeasurable. I know that from watching other kids. I know that intimately from watching my own kids go through these activities."
She recounted memories of fairs of the past noting fond fair memories that included the rescue of a runaway lamb that was chased through downtown Buchanan, working with all of the partners involved in putting on the event, and her interactions each year with the youth selling their animals.
"[I enjoy] the little moments like watching those kids in the show ring—seeing them smile," White said. "I always try to talk to the kids that I buy chickens from. They want to know if they can come to my house to see their chickens after I buy and them and I say, 'Of course you can.'"
Botetourt County 4-H will have educational and interactive club exhibits on display at this year's Botetourt County Fair. Patrons can learn about 4-H Clubs and receive information on how to become involved. Members of the livestock club will have exhibits on display Friday, August 11 in addition to bingo and a Twilight Market showcasing local vendors. Friday night includes special live music by Western Justice and a beer garden. The Botetourt County Chamber of Commerce Agriculture Committee joins the Friday night festivities to help generate excitement for Saturday.
Saturday's events will include Sheep Shearing and Goat Milking demos, Chicken Bingo, a local food walks, a "Kid's Corral" featuring multiple activities for children and free ID kits provided by the Botetourt County Sheriff's Department, a draft horse pull, the youth livestock show featuring local 4-H and FFA competitors, and a livestock auction.
As in previous years, the poultry and livestock auction takes place after the livestock show on Saturday. Club members have been working very hard to get ready for this year's fair and are appreciative of the support of the community and buyers that make the show and sale successful. Additionally, there will be the third annual food walk with this year's grand prize being an Etzler ham on behalf of Jay Etzler along with several other prizes. One big change this year is the homemaking tent, known as "The Farmhouse," will be located inside of the Wilson Community House on Lowe Street where attendees can experience youth exhibits on display all day Saturday.
For more information on the fair, visit botetourtcountyfair.com or find the fair on Facebook at "Botetourt County Fair."