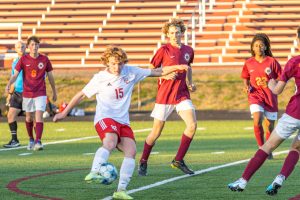 The Lord Botetourt boys won their second district soccer game last week when they defeated William Byrd, 3-2.
The Cavaliers started the game strong with a goal in the first minutes by Will Hall. It was all LB in the first 20 minutes before William Byrd turned it up a notch to net two goals and take a 2-1 lead at the end of the first half.
LB came out of halftime ready to go and Cadyn Bowles scored two goals, one 30 minutes left in the half and the game winner with 20 minutes left in the half. With the win the Cavs remained unbeaten in BRD play with a tough schedule this week. The Cavaliers have district games at William Fleming Tuesday and home to Franklin County Friday around a non-district home game with Brookville tonight.