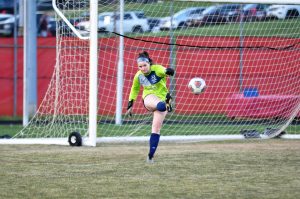 Lord Botetourt and William Byrd come into the week tied for first place in the Blue Ridge District soccer standings after battling to a draw last week. Byrd and LB are both 1-0-1 with district games on Tuesday and Friday.
LB was home to William Fleming on Tuesday and at Franklin County Friday around a non-district game at Brookville tonight. Byrd was home to Franklin Tuesday and at Northside Friday.
Last week in Daleville the girls battled to a 2-2 tie. Emma Rice scored a goal off an assist from Falan Peters and Emma assisted on LB's other goal by Kaylee West.
On Friday the girls played at Northside and shut out the Vikings, 3-0. Rice had two goals and Autumn Estrada had one before the game was called due to lightning.