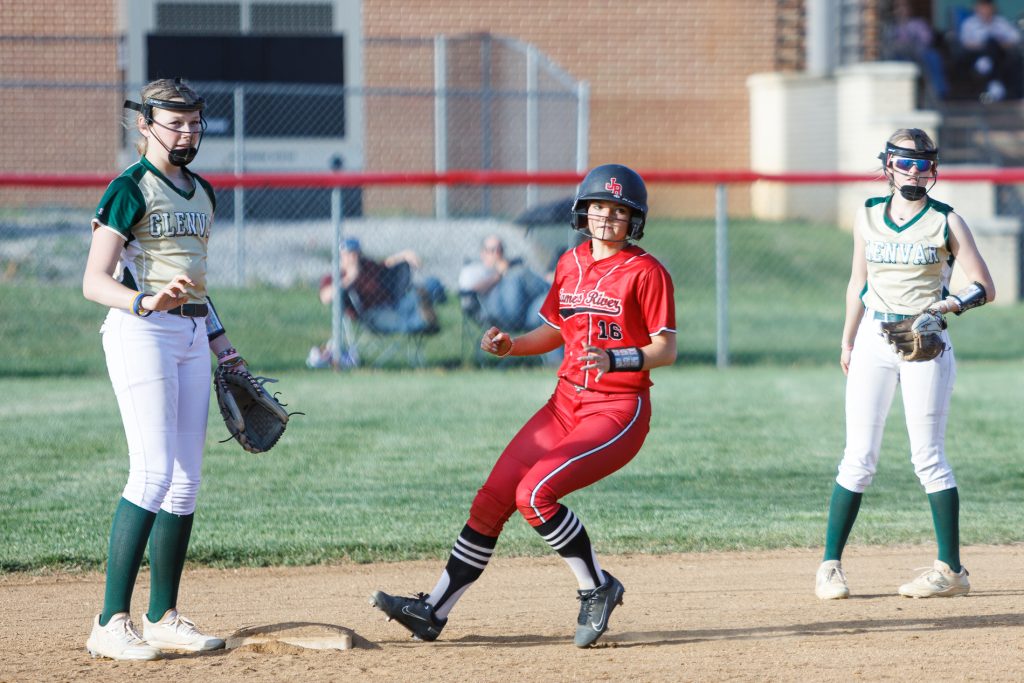 The James River softball team stepped up three classifications in the Virginia High School League rankings when the Knights played at Class 5 Patrick Henry Monday, but that didn't deter the Class 2 Knights. River broke open a close game and went on to a 15-2 win over the home-standing Patriots.
"The final score was not indicative of how close the game was going into the fifth inning," said River coach Steve Austin. "Cloey Joynes' three-run home run was huge. It reestablished our momentum and led to the end result.
"We did get 20 hits, including eight of the extra base variety. Half of those came in the last three innings."
River was locked in a tight 5-2 after four innings. However, in the top of the fifth Kaycee Kincaid and Ripley Barry led off with back-to-back singles. After Sydnee Breeding reached on a fielder's choice, Joynes hit a line drive three-run homer to dead center to turn the momentum back to the Knights.
Jenna Pugh had for hits, including a solo home run and a triple. Austyn Moran and Kincaid had three hits apiece and Lexi McCullough had a solo home run. The Knights banged out 19 hits.
Moran scattered six hits and struck out 11 batters, walking two, as River improved to 8-0, with all decisions going to Austyn.
James River elevated their record to 8-0, 2-0, on the season.
Last week the Knights opened Three Rivers District play and won their first two outings. On Tuesday they won at Floyd, 2-1, despite stranding eight baserunners.
Pugh led off the game with a double and scored on a passed ball to give the visitors a quick 1-0 lead. With one out in the top of the second, Joynes hit a solo home run to left field to put River up 2-0. In the bottom of the second inning Floyd County scored their lone run on a wild pitch and that would complete the scoring for the day.
Moran battled hard all day and limited the Buffalos to three hits, with five strikeouts and four walks. The defense behind her was really good, committing no errors and making several key plays. Shortstop Breeding threw out the potential tying run at the plate in the sixth inning on a  5-3-6-2 play and catcher Kincaid threw out a base stealer in the third inning.
Four different James River players had two hits, Pugh, Kincaid, Keira Crawford, and Abbie Wilson. Joynes had the home run, Breeding had a single, and Elly Lackey had a single.
On Thursday at home the Knights had too much firepower for a Glenvar team that has traditionally been an arch-rival. Not so this year as River banged out a slaughter rule 12-0 win.
Moran came within one pitch of a five-inning perfect game, but still had a no-hitter with a two-out, fifth-inning walk depriving her of the perfect game.
"Austyn was outstanding for us," said Austin. "We played good defense, and we hit a lot of hard shots. That's a recipe for a good night for our team."
Lackey, Moran, and Barry all had three hits in the game and Joynes drove in four runs.
The Knights continue district play this week with home games against Carroll County on Tuesday and Radford on Friday.