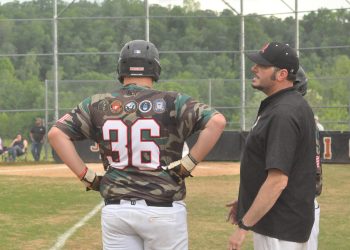 James River baseball coach Matt Gouker will be coaching his last baseball games at the school as the season winds down. Matt informed the team that he will not be returning next season after taking a job outside the Botetourt County school system.
Gouker has accepted a job as an assistant principal at Glen Cove Elementary School in Roanoke County. He's been the baseball coach at James River for the past five years after taking the position when Harry Falls retired.
"I'll miss baseball but I'll be able to spend more time with my little girl," said Gouker, who has a 4-year-old daughter with wife Miranda.
The Knights would like to send Gouker out on a high note. They were scheduled to play at Radford Tuesday after losing three games to Class 3 schools in the past week. The Knights were 6-12 overall and 3-5 in the Three Rivers District prior to Tuesday's game at Radford.
James River lost to Class 3 Rockbridge County twice in the past week. Last Wednesday in Lexington the Wildcats took a 16-6 win over River. Rockbridge broke the game open with seven runs in the sixth inning. Hunter Mays, Colin Cook and John Austin all had two hits for the Knights and Cook drove in three. Zeal Hammons started and took the loss.
On Thursday of last week River played at Carroll County and dropped an 8-3 decision. Hammons pitched first five innings in this game and struck out eight but was tagged with his second loss of the week. The Knights had just four hits as Carroll's Lance Burnett struck out 10.
Rockbridge returned the trip to Springwood on Monday and swept the season series with a 10-4 win over the Knights. River battled back after falling behind but couldn't draw even as Taylor Wilson, Logan Joyce and Mays split time on the mound. Mays, Andrews, Cook and Wilson had two hits each.
After Tuesday's trip to Radford the Knights will be back home to host Alleghany on Thursday.