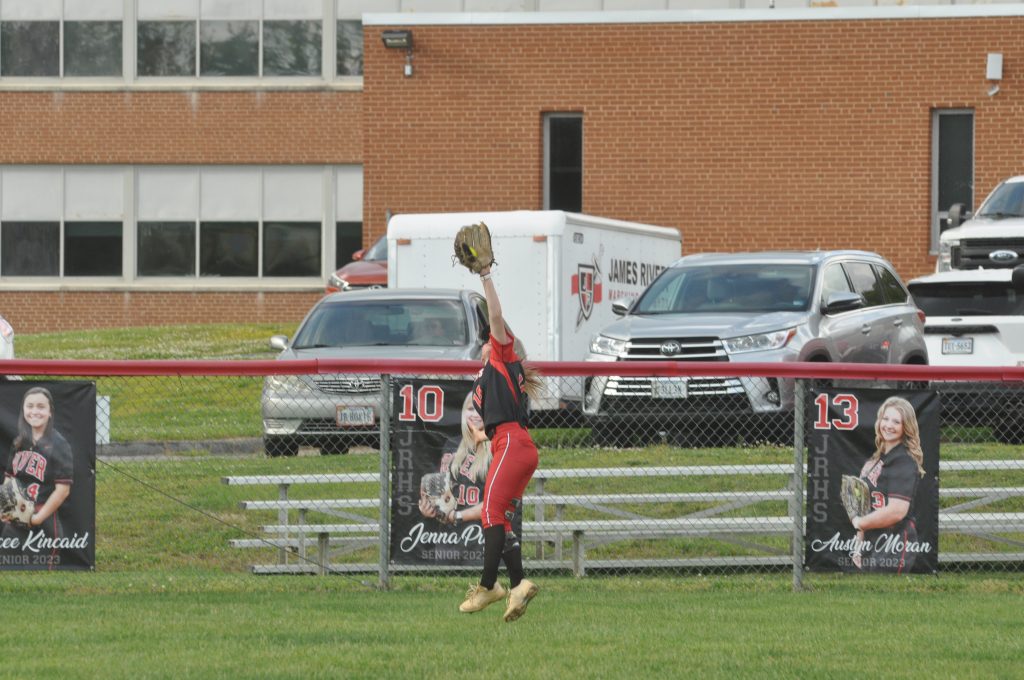 The James River softball team will wrap up a memorable regular season with two games against Three Rivers District teams this week. The Knights were scheduled to host Floyd County on Tuesday and on Thursday they take on Glenvar in Roanoke County.
River comes into the week with a nine-game winning streak. Playing mostly larger schools in their non-district schedule, the Knights were 17-1 after going 3-0 last week. Their only loss was a Three Rivers District defeat by Carroll County, and they avenged that loss the second time around.
Last Thursday in Springwood they followed up an 8-5 win in Radford with an 8-1 win over Alleghany to run their district record to 7-1. The Knights used two big innings to put the Mountaineers away.
Kaycee Kincaid led off the bottom of the second with a double, and consecutive singles by Ripley Barry and Sydnee Breeding scored pinch runner Abbie Wilson. A Keira Crawford groundout scored Barry, then a Jenna Pugh double scored Breeding, completing a three-run inning.
After scratching for a run in the fourth, the Knights used hits by Austyn Moran, Kincaid, Breeding, Cloey Joynes and Pugh to score four more runs in the fifth inning. Alleghany used three hits to score their only run in the sixth inning.
James River banged out 12 hits in the game. Moran allowed seven hits to the Mountaineers, but struck out eight with no walks.
"We played our best all-around game in a while," said coach Steve Austin. "Very solid on defense, really good pitching, and we got 12 hits."