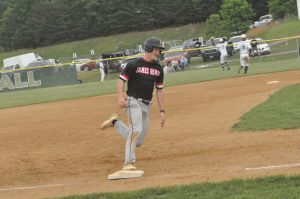 The James River baseball team will try to spoil graduation for Glenvar's senior players when the two meet on the River diamond at noon today. River and Glenvar will open the Region 2C tournament in Springwood.
The early start is due to Glenvar having graduation tonight, Wednesday, and it will be the third meeting between the two rivals this season. The Highlanders won the first game, 15-7 in Springwood, but the Knights returned the favor with a 7-6 win at Glenvar last Thursday.
Last week's game was a back-and-forth affair that went down to the wire. Glenvar scored five runs in the first inning off River starting pitcher Zeal Hammons to take the early lead. However, Kody Park relieved to start the second and settled things down, pitching five solid innings and allowing just one unearned runs as the Knights chipped away on offense. NC State signee Heath Andrews ripped a three-run homer in the second inning to start the comeback.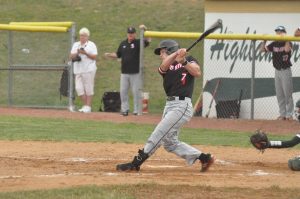 River took the lead in the top of the sixth. Trailing 6-5 with two on, Colin Cook cleared the bases with a two-run double to give the Knights their first lead of the game. Cook then pitched the seventh, retiring the side in order on 13 pitches to pick up the save as Park got the well-deserved win.
With the victory the Knights improved to 9-13 on the season and, as luck would have it, the Region 2C tournament lined up with a rematch. James River got the home game as the fourth seed and Glenvar is fifth seeded. Today's winner will advance to Friday's second round against top-seeded Alleghany on the Mountaineers' home field.