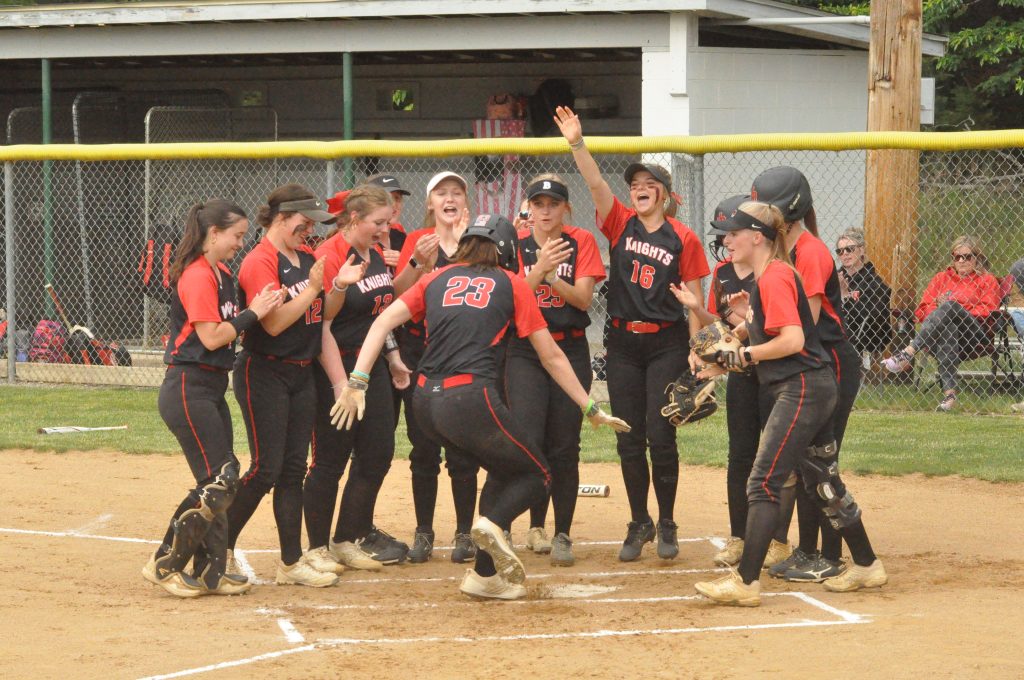 The James River softball team is 19-1 and riding an 11-game winning streak as the Knights prepare for this week's Region 2C tournament. River will open region play either Thursday or Friday, depending on results from Tuesday's opening round.
Nelson County, the fourth seed, was scheduled to host fifth seeded Glenvar on Tuesday in Lovingston. If Nelson won that game, River would host the Governors on Thursday. However, if Glenvar won that game, River would open at home on Friday with the Highlanders.
Either way, the Knights will be solid favorites for their region opener. Last Friday they wrapped up their regular season with a decisive 14-0 win over Glenvar in Roanoke County. This one got late early as the Knights struck for seven first inning runs on eight hits, highlighted by a two-run home run by Ripley Barry deep in the trees in dead center at Glenvar's field. The Knights had four extra base hits in the first inning alone.
Barry had a big day with the homer, a triple, two doubles, three runs scored and six RBIs. Elly Lackey had two triples, two singles, three runs scored and two RBIs and Jenna Pugh compiled a triple, two singles, two stolen bases, two RBIs and a run.
Also in the hit parade was Kaycee Kincaid, who had three singles, two runs and an RBI. Caitlyn Downey had two singles and Lexi McCullough, Austyn Moran, Sydnee Breeding, Cloey Joynes and Keira Crawford had one hit each in the 21-hit attack.
Austyn Moran improved her mound record to 19-1 with her sixth shutout of the season, scattering three hits and striking out five. She threw only 63 pitches in five innings.
"Glenvar has an exceptionally young team and our hot start made it really hard for them," said River coach Steve Austin. "I do commend our squad for coming focused and ready to play. Our bats were the story of the game but we also had outstanding pitching and very good defense."
On Tuesday of last week the Knights hosted district rival Floyd and took a 4-1 win. The Knights scored three runs in the first inning and Moran made that hold up with a four-hit effort on the mound.
"Floyd came in playing really good softball," said Austin. "They had gotten back to .500, at 9-9, after a very slow start. This was a good win."
The Knights could run into the Buffalo gals again in the near future. Floyd will play Patrick County in region tournament Friday and the winner will play the winner of River's game in the next round on Tuesday of next week at the Botetourt Sports Complex.
"Our challenge heading into the post season is to stay tight and keep doing what we have been doing," said Austin. "The layoff and the distractions before we play are always a concern."