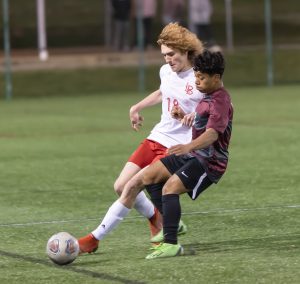 The Lord Botetourt boys got their soccer season underway last week with a trip to Salem and dropped a 2-1 game in overtime.
Salem scored first, finding the net after peppering LB keeper JB Cook with a barrage of shots. Then coach Taylor Leonard made some changes and momentum swung the other way as Cook kept the Spartans from adding on.
"JB Cook had a spectacular night in the goal with one PK stop in the second half and over 20 saves in the game," said Leonard.
With around 10 minutes left to play Will Hall played a beautiful header into the goal off a corner kick from Cadyn Bowles to level the playing field. In overtime, it was another back and forth fight, but Salem was able to take the lead in the first five minutes of the period.
"Both teams fought hard and played a wonderful game," said Leonard.
The Cavaliers are at Brookville tonight, Wednesday, then travel to Glenvar for a Thursday game against a team that went to the Class 2 state final last spring.